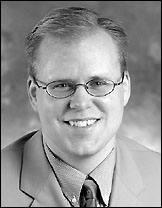 Doug Stang (R-Cold Spring) announced last week that he will not seek a fifth term to the Minnesota House of Representatives in November.

Stang, an assistant majority leader in the House of Representatives, cited his young family as the reason for his decision not to run for re-election.

Rep. Doug Stang (R-Cold Spring) announced last week that he will not seek re-election to the Minnesota House of Representatives in November. He has served four terms.

"While it has been an immense honor and pleasure to represent the citizens of Stearns County in the legislature, it gets harder and harder to leave my wife and young son and daughter each time I leave for St. Paul," Stang said. "I can't thank my wife Susan enough. My family has always had to endure my split attention between them and the people who elected me, and I just feel the time is right to make the decision to retire from the legislature."

Stang was first elected to represent District 14B in 1996 and quickly rose in the ranks of House leadership. As a first-term legislator, Stang was the only freshman named to the House's powerful Ways & Means Committee.

He quickly became an assistant majority leader and served on the House Majority Executive Board. He also was named Chair of the House Higher Education Finance Committee this term.

Stang represented District 14B, most of eastern Stearns County, except St. Cloud, in the House. District 14B includes the cities of Cold Spring, Paynesville, Richmond, Roscoe, and St. Martin and the townships of Munson, Paynesville, St. Martin, and Zion.

This session, Stang was tapped by House leadership to carry the highly-publicized stadium legislation. However, Stang points to several pieces of successful local legislation as the highlight of his legislative career. They include securing funding for Highway 23 construction between I-94 and Richmond; funding for the Lake Koronis Recreational Trail; funding for the Richmond Wastewater Treatment Plant; and legislation for the Paynesville American Legion, among others.

Stang, a graduate of St. John's University, is known in the legislature as a passionate advocate for higher education students and Minnesota's higher education institutions. As chair of the House Higher Education Finance Committee, Stang was able to stave off some of the higher education reductions proposed as part of last session's deficit reduction plan. He was also able to enact reforms and change the way the state funds higher education, sending more funding directly to students through the state grant system.

"I want to thank the residents of Stearns County for their support over the years," said Stang. "I will continue to be very involved in our community and issues important to Stearns County."
---
Contact the author at editor@paynesvillepress.com • Return to News Menu
Home | Marketplace | Community
---