Middle school announces May Students of the Month
This article submitted by Linda Stelling on 5/17/00.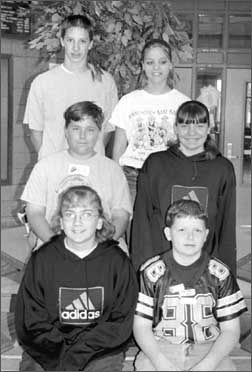 The last group of students to be honored as Students of the Month this year was announced by teachers at the Paynesville Area Middle School.

Each month throughout the school year, middle school teachers recognize students who achieve good grades, cooperate in class, and display leader-ship.

Students selected for May are sixth graders: (front) Jessica Sheets and Mike Berry; seventh graders: (middle) Cody Flanders and Stephanie Hormann; and eighth graders: (back) Ashley Ahrens and Troy Fuchs.

Jessica is the daughter of Darrel and Sandy Sheets. According to her teachers, Jessica is hard working, pleasant, cooperative, and friendly.

She is a member of the sixth grade choir and book club. Volleyball, basket-ball, and collecting stickers are her main interests.

Jessica felt honored to win the award. "I worked hard in school," she said.

Mike is the son of John and Peggy Berry. According to his teachers, Mike is a responsible student, likeable, and hard working.

Mike enjoys playing football, biking, and rollerblading.

He feels good about winning the award. "I like to help out others," Mike added.

Cody is the son of Barry and Janet Flanders. According to his teachers he is considerate and a good student. Cody puts forth effort and displays a good attitude to others.

He participates in baseball, football, and hockey. His interests are sports.

"I feel happy about winning this award," Cody said. "I was putting a lot of effort into my classes."

Stephanie Hormann is the daughter of Jim and Ruth Hormann. According to her teachers, she is friendly, hard working, and polite.

She is a member of the seventh and eighth grade choir and speech team. She likes to play sports.

"I was surprised to win this award," Stephanie said.

Troy Fuchs is the son of Charles and Stacy Thielen. According to his teachers, Troy is friendly, polite, and considerate. He works hard on class assignments.

He is a member of the eighth grade track and basketball teams. Troy's interests include biking, running, and snowmobiling.

"I was surprised to win this award," Troy said. "I won the award because of hard work and good effort."

Ashley is the daughter of Phillip and Rebecca Ahrens. According to her teachers, Ashley is polite and puts forth great effort. Ashley is friendly and cooperative in school.

She is a member of the eighth grade volleyball and track teams and enjoys cheerleading. Her hobbies are horseback riding and hanging out with her friends. "I feel very privileged to have the teachers pick me," she said.

Ashley said. "I am nice, and I deserve what I got. I help out and volunteer for things."
---