Eye Tumor threatens 4-year-old
This article submitted by Michael Jacobson on 5/16/01.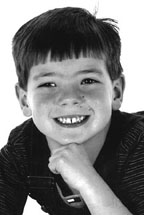 Spencer Syvertson likes to ride bike, swing, swim, and watch cartoons, typical stuff for a four-year-old. He devours ice cream when possible, likes to ride snowmobile, is working on learning his arithmetic, and recently pleaded with his mother to be allowed to keep a few chickens and bunnies in the backyard of their Paynesville home.

What makes Spencer, who will turn five in June, atypical is the tumor in his eye. The tumor - in the interior of his eye, completely encased - is so atypical that it has avoided a firm diagnosis from some of the leading doctors in the state and the nation.

Spencer's abnormal eye wasn't discovered until late last fall, when a routine vision test during the kindergarten screening revealed he had limited vision in his right eye. Except for one recent incident where he mentioned that things looked different when he used only his right eye, Spencer's parents - Amy and Mark - had no idea of his vision problem.

The Syvertsons moved to Paynesville from Pequot Lakes within the last year. Mark took a teaching job here so the family could be closer to Amy's hometown of New London, their friends in central Minnesota, and Mark's Air Force Reserve Unit.

They described Spencer - the oldest of their three kids - as having totally normal development. The fact is he was using the vision of his left eye to compensate for the lack of vision in his right. But since that was the only way he had ever known and because he never tripped or ran into walls, his parents didn't discover his vision trouble.

Further testing by an optometrist in January showed his left eye was nearly normal, but his right eye was off the chart. "When the numbers are way out there in leftfield," said Mark, "you kind of think something's wrong." His parents opted to get a second opinion.

Tumor discovered
Things happened rather quickly after that. An ophthalmologist discover a mass in Spencer's eye and referred him to a retinal surgeon. Within days, he had been examined by the surgeon and undergone an MRI, CT scan, and ultrasound. A tumor on top of a birth mark in the interior of his eye was the problem. By February, the family was referred to the Twin Cities, for a meeting with three leading doctors in the state. Before meeting the doctors, "Oohs" from the receptionist and nurses made it clear that a top-notch panel had been assembled to consult about Spencer's condition.

"That put us at ease a little," said Mark. "We've got the best in the state."

After examining Spencer under anesthesia, the doctors made a recommendation to remove his eye. The only good news for the family was that the tumor was not being fed by a blood vessel, limiting its opportunity for growth and the chances that it would spread, giving them some time to make a decision.

The three Minnesota specialists recommended the Syvertsons take Spencer to Philadelphia to see a national specialist and one of the best in the world. They made the recommendation on Friday, and the Syvertsons were expected in Philly on Monday morning.

There was no question that they would go. "The moment I got the words, 'Do you think we should go?' out, (Mark) said, 'We're going,' " recalled Amy.

"Your son's life is in danger," explained Mark. "You do everything to make it work."

In Philly, Spencer was examined by four specialists over two days, keeping the family in Pennsylvania longer than expected. The diagnosis was that the tumor has characteristics of three forms of cancer and was most likely an atypical form of retinal blastoma.

Three-month wait
Once again, because the tumor didn't appear to be an immediate threat, the doctors recommended tracking it for three months. Twice within the past three months, Spencer has been examined again, and the tumor appears to have grown a half a millimeter.

Half a millimeter: virtually too small to discern with the naked eye. "I've seen them on rulers all the time as a math teacher," said Mark warily. But of grave concern when it's a malignant tumor in your son's eye.

The tumor appears to be growing toward Spencer's optic nerve, a real concern "because we don't want to have a port out of his eye to his body," said Amy. So far, doctors have been confident that the tumor is not in danger of spreading.

This week, the Syvertsons are back in Philadelphia for the follow-up check. This time the other options - radiation, a fine-needle biopsy, or removal of the eye - may be called for. "We're going to trust whatever they say," said Amy.

And the removal of his eye - a drastic action three months ago - would be palatable now. "We're at the point where we have to look beyond vision," said Mark. "We're looking at survival."

Besides, if he already functions well without vision in his right eye, what's to worry about, asks Amy. Spencer, they say, has been a great patient throughout. Bouncing back quickly from the tests and examinations, "You wouldn't know we would have a sick eye," said Mark.

Community support
During the wait, Mark lost his teaching position at Paynesville Area High School due to the recent budget reductions. No one likes to be unemployed, but when your son desperately needs health insurance, it intensifies the urgency.

They caught what seemed like their first break in a long time when Mark secured a new position at Sartell High School, with what he thinks will be better insurance coverage. Amy wants to see that in writing.

Through all the trips to the doctor, to the Twin Cities, they have relied on help from family, friends, and the community. "We can't thank people enough for all the support we've received," said Mark. "It's amazing. Truly amazing." All the help has allowed the family to do whatever is necessary to help Spencer, his parents said.

On this trip to Philly, the Syvertsons will be flying for free via Corporate Angels (who arrange flights on corporate charters) and staying at the Ronald McDonald House.

Mark's reserve unit and his aunt have already done separate fund raisers to help the family with the doctor bills, travel costs, and miscellaneous expenses incurred by Spencer's illness.

A fund-raising spaghetti supper - co-sponsored by the staff at the Paynesville Area Schools - will be held on Wednesday, May 23, at the St. Louis Catholic Church for Spencer's benefit. It will last from 4:30-7:30 p.m. and a free-will offering will be taken.

Spencer's progress can be monitored online at www.caringBridge. com/mn/spencersyvertson.
---