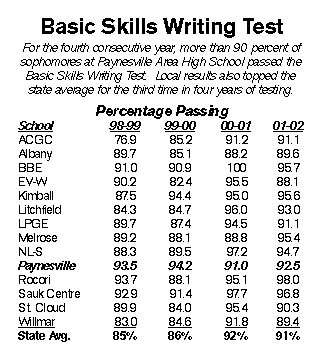 Over 90 percent of sophomores at Paynesville Area High School have passed the Basic Skills Writing Test. In four years of testing on writing, PAHS sophomores have topped 90 percent each year.

Students around the state took the writing test in January, and the state released the results last week. Students will be notified of their individual results in a letter from the school by the end of the week.

Paynesville's passing rate of 92.5 percent was also better than the state average (90.7 percent).

Seven area schools had passing rates higher than Paynesville's (see chart at right) but only three schools have topped 90 percent for four straight years: BBE, Paynesville, and Sauk Centre.

Amy Flanders, who teaches all five sections of sophomore English this year, was particularly proud of Paynesville's average score of 3.3, which was the highest in the area. She knows passing rates are always going to fluctuate, especially since each student represents a percentage point or more, so she was proud to see the overall high scoring of PAHS students.

"Our students had a higher quality of writing," she said of the high average score. "So that made me happy."

The writing test actually is both a Basic Skills Test (which aims at determining if students know the minimum of required skills) and a Minnesota Comprehensive Assess-ment (which tests the extent of their abilities). As such, the writing test is graded on a scale of 1-6, with 1-4 the basic skills part and 5-6 upper ability.

According to the scoring guidelines, the scoring goes: 1 Ð a very inadequate response; 2 Ð a less than adequate response; 3 Ð an adequate response; 4 Ð a more than adequate response; 5 Ð a skillful composition; and 6 Ð an exceptionally skill composition. Essays are judged on organization, clarity, focus, structure, and using support and elaboration. They also can be penalized for errors in convention like spelling or grammatical mistakes.

This year's essay asked students to describe their dream job.

To have her students prepare for the test, Flanders assigned them practice writing and had them grade sample tests to familiarize themselves with the scoring.

The tenth grade English curriculum focuses half the year on literature, a quarter on speech, and a quarter on writing. Among the activities during the writing portion are a six-week research paper and a three-week character sketch. Due to scheduling, though, only half the tenth graders had done the writing portion of the class before the writing test in January.

Students learn about providing details, organizing their material, and generating ideas. All of these are tested on the state writing test, said Flanders.

The classes also spend the week before the writing exam doing practice tests.

On the actual test day, students get as much time as they need to write their essay. On the test, they have to start by generating an idea, as they do not know the topic beforehand. They have paper to write a rough draft before putting their final essay on the answer sheet.

Some students follow the basic pattern of the five-paragraph essay, with an introductory paragraph, three paragraphs with topic points, and a conclusion. Others opt for more advanced organizations, said Flanders.

Students need to pass the Basic Skills Writing Test to graduate.
---
Contact the author at paypress@lkdllink.net • Return to News Menu
Home | Marketplace | Community
---