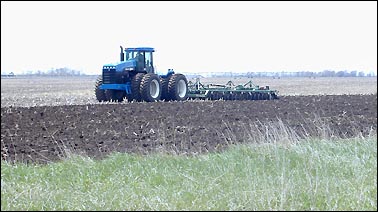 Spring 2000 was perfect for planting. Spring 2001 was terrible. This spring appears to be between those two extremes.

In fact, according to five-year averages, planting so far this spring is fairly typical.

As of May 3, an estimated 56 percent of corn had been planted statewide. At the same time last year, six percent of the corn crop had been planted, compared with 90 percent in 2000. The five-year average for corn planting is 59 percent.

Soybean planting this year is six percent completed versus none a year ago and 50 percent in 2000. Sixteen percent is the five-year average.

Estimates for spring planting from local counties is right around the state marks. Pat Kearney, the extension educator for Kandioyhi County, reports that 70 percent of corn and all of small grains have been planted, but less than 1,000 acres of beans. "The windy weather has helped to dry out the fields, but we really need some heat," said Kearney.

Dan Martens, the county extension educator for Stearns, Benton, Sherburne, and Wright counties reported that 60 percent of the corn and approximately five percent of the soybean crop had been planted in Stearns County.

"I would say that we're starting to slip behind for corn," said Dave Schwartz of the Meeker County Extension Office. He estimates that 60 percent of corn in Meeker County has been planted.

While Martens hasn't been able to tour the Paynesville area, the rolling hills in the area, he believes, has allowed farmers to get into the fields sooner than the county average, remarks which is confirmed by local farmers south and west of town.

Ronald Thorson of Hawick said he finished corn on Monday, May 6, but he hasn't started planting beans yet.

Another area farmer from south of Lake Koronis reported that their corn is 90 percent planted but they haven't begun to plant beans.

Farmers reported that small grains have been planted, including north of town, where soils are heavier. Lynn Hemmesch, who farms with his brother Randy near Lake Henry, reports that he hasn't started planting corn yet but he is finished with oats.

The average corn planting date in Minnesota is May 6 and the average date for soybeans is May 15, reminded Martens. If the area gets a week of warm, dry weather it could finish a lot of the remaining planting.

Schwartz said farmers shouldn't panic over planting yet and adds that planting a short-season hybrid is an alternative. Short-season soybean hybrids yielded as much as 40 bushels an acre last year when it became necessary to replant some of the soybean crop, he added.

Martens recommends planting full-season corn prior to May 25 and soybeans prior to June 10.

Soil moisture levels are good, thanks to late-season snows and spring rain. Kearney said that moisture levels are excellent with 84.3 inches of snow in Kandioyhi and Stearns counties this year.

One worry is whether the cool weather will slow down growth and affect yields.

Kearney has heard of soil temperatures at 38 degrees. Since corn germinates at 50 - 55 degrees and beans at 60 - 65 degrees warmer weather is needed.

If seeds are planted and aren't allowed to germinate because of soil temperatures, the seeds may rot in the ground. This is especially true when there are damp weather conditions, like now. However, seed treatments and newer seed hybrids mean seeds are more rot resistant than in the past, said Martens.

Seed rot isn't the only danger of planting in cold, wet, conditions. If a plant comes up in cold, wet, weather, it may not establish a healthy root system. This could compromise the yields.

Martens said that farmers should get crops planted regardless of the soil temperature. "Seed can't grow in a bag in the grainery," he said. There's better than a 90 percent chance the seed will eventually germinate.

The cold temperatures are also affecting alfalfa, which hasn't grown well in cool weather.

"The weather is something people have little control over other than being able to irrigate in some cases when it is dry,." Martens said, "The task remains the same, looking for way to make the best of the cardsx that are dealt."
---
Contact the author at paypress@lkdllink.net • Return to News Menu
Home | Marketplace | Community
---