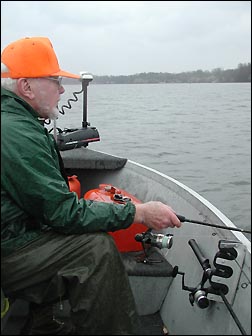 Glenn Bennett's favorite fishing story happened on Lake Koronis in the late fall a few years back.

Bennett - who started guiding fishermen at his grandfather's resort on Rice Lake as a kid, who owned a fishing camp in Ontario for ten years, and who operated a trailer park on Koronis for 22 years - was out fishing with a man of the cloth. They were hammering walleyes by First Island when a spotlight hit their boat.

Asked what they were catching, Bennett hollered back, "A lot of rocks," even though the bottom of the boat was covered with fish.

Then he turned to the pastor and said, "I didn't want you to have to lie to that guy."

Bennett, made it out on Lake Koronis for the fishing opener on Saturday. He has made every opener on Koronis for the past 25 years.

Bennett, 86, wishes he had $1 for every fish he's cleaned in his life, but maybe he should want that amount for every fish story he knows. Growing up, he used to get a dime for every fish he cleaned when his parents lived by Mille Lacs.

Having spent years in the resort business and having a passion for fishing, Bennett has dozens of yarns to tell, though his joke about getting away from a bear by poking him with his fishing rod needs to be heard in person.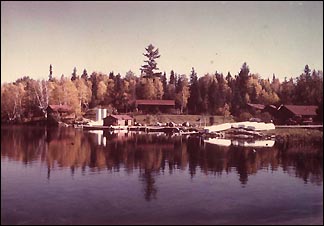 Back when he was operating the fishing camp (at right) on Dryberry Lake in Ontario - which is near Sioux Narrows about 90 miles north of International Falls on the way to Kenora - a fish story of Bennett's made its way into a daily newspaper in Chicago.
The story of Old Pierpont was chronicled by a staff writer of the paper. Dryberry is known for lake trout, northern pike, and muskies, and Old Pierpont was a large muskie that could easily be recognized in the clear water of Dryberry. "Everyone had seen this muskie," explained Bennett, "because it had this misshapen head. It's jaw stuck out on the side."
Old Pierpont's home was well known, Bennett told the sports writer, though he proved elusive to catch. Old Pierpont lived in Just Me Know Bay, so named for a local Indian fishing guide, who when asked where he caught fish would reply: "Just me know."
A year or two after the story of Old Pierpont appeared in print in Chicago, a guest at the fishing camp asked Bennett if the fish was still in the waters of Just Me Know Bay.
"Is Old Pierpont still there?" asked Bennett's client. Bennett responded jokingly that he had seen a mother moose and its calf swim across Just Me Know Bay recently and the calf disappeared (presumably into the belly of Old Pierpont), so the big fish must still be there.
Actually, the biggest muskie that Bennett saw during the ten years that he and his wife, Marge, were operating the fishing camp surfaced about 30-feet from his boat one day. The fish appeared to be six-feet long. "We went out and beat that bay for two days, but only caught northerns," he lamented. "That would have been a world record fish."
"A fish that big," he adds, "your odds of catching him are pretty small."
The largest muskie caught by rod and reel, at least at that time, was 70 pounds. Since muskies grow about a pound a year, a fish that big is very old and very wise.
Bennett - who worked as a machinist for more than two decades, starting in the aircraft industry during World War II - bought the resort in Canada after his two daughters were grown and on their own. "That's what I wanted to do all my life," he said.
"I like the outdoors," he added. "We had (a resort) when I was a kid (on Rice Lake), and I enjoyed it. This was my decision. I wanted to do something I wanted to do."
After living in Iowa, Illinois, and Michigan before getting a great deal on the resort in 1966, he continued to work as a machinist from November to April and spent May to October at the resort. The resort business, he said, is a lot of work: arranging supplies, coordinating guides for the guests, feeding the guests, and lining up clients by attending sports shows across the country.
"It was quite an operation," he said. "We had no road (to the camp). I'd use a thousand gallons of gas a week. It had to come by boat."
From their bay on the southwest end of Dryberry, Bennett could take his guests on 25-mile trips in different directions on the lake.
The $30,000 resort grossed $18,000 the first year, but $85,000 in the last year they owned it.
When they owned the camp, Glenn didn't have a lot of time to fish, unless he was guiding a trip. But since moving to Lake Koronis he has made up for it. "I had a lot of time for fishing. A trailer park practically runs itself," he said.
He still fishes three times a week, he estimates, and does a little guiding. He has fished on opening day in Minnesota for the last 25 years.
Last year was the first time that Bennett - who also used to guide for moose hunting when he owned the fishing camp in Canada - didn't buy a hunting license. But he has no intention of giving up fishing.
"No," he said immediately when asked if he'd ever quit. "Not as long as I can get in a boat."
Bennett has landed a 38-pound muskie, a 32-pound lake trout, and a 13-pound, eight-ounce walleye in Canada. (He also caught a 10-to 12-pound walleye on Koronis, but he did not weigh it.
The largest fish he ever caught was a 55-pound king salmon when he and his wife drove to Alaska for the summer. He also has gone ocean fishing in Florida, managed a fly-in fishing camp 400 miles north of Winnipeg for a year, and likes to fish on the Missouri River in South Dakota.
Besides fishing, Bennett likes to read, pitch horseshoes, and play golf. He likes to call himself the best 86-year-old golfer at Koronis Hills, only because he claims to be the only 86-year-old golfer there.
---
Contact the author at paypress@lkdllink.net • Return to News Menu
Home | Marketplace | Community
---