The Koronis Muzzleloaders is a newly-formed club for owners of muzzleloading weapons - either antiques or replicas - and for anyone who wants to shoot or to learn to shoot one.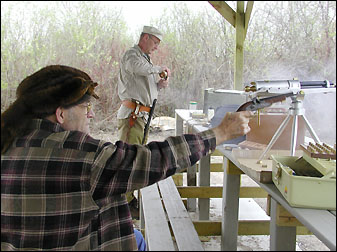 So far, the six members of the club have met informally and on a varying schedule. New members are always welcome, said Leroy Notch, the club organizer and founder. Eventually, the club would like to organize outings and perhaps even re-enactments.
Notch, a retired industrial arts teacher, builds and fires scale replicas of Gatling guns and other antique firearms. Notch used to have his students build replica cannons and learned how to work with both metal and wood in the process, he said.
Leroy Notch (front) and Leo Louis (back) take target practice at a recent muzzleloader club outing.
Other club members build or own muzzleloader rifles or pistols. According to Notch, Tom Scheierl is the club's expert on antique guns and their history.
The club's mission, said Notch, is to educate and enjoy muzzleloaders and antique guns.
The newly organized club doesn't have a regular meeting time yet, but a target shoot has been scheduled for Sunday, May 18, at 1 p.m. at the Tri-Country Rangers' shooting range. A freewill donation will be taken at every shoot to be given to a local charity.
Membership dues for the muzzleloader club have been set at $20 per year, and those wishing to use the shooting range must pay the gun club's membership of $10 per year,too.
---
Contact the author at editor@paynesvillepress.com • Return to News Menu
Home | Marketplace | Community
---