Flashover Youth Ministries wants teens to get excited about God. By hosting performances by contemporary Christian bands, comedians, illusionists, and clowns, the group hopes to reach out to local teens from every denomination.

Last weekend, Flashover Youth Ministries sponsored a concert by three national Christian rock bands: By The Tree, a group that has won two Dove awards, Christian music's answer to the Grammys; Phat Chance, a band whose name is an acronym for "Praise Him at All Times"; and Across the Sky, a new band on the Christian music circuit.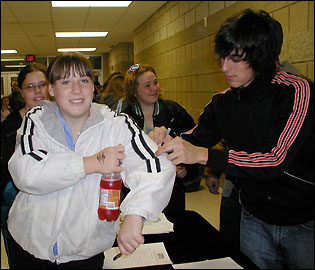 The concert, held at the school auditorium, drew over 300 people.
Most of the concert-goers were teens, but several adults danced and sang along to the tunes of the bands.
Phat Chance, a group that encourages teens to practice abstinence until marriage, sang the Beatles tune, "I Want To Hold Your Hand," to get the audience in the mood to rock-and-roll, while By the Tree had a 1980's punk-metal influence.
Cassandra Lounsbury gets her jacket autographed by a member of Across the Sky, one of the three bands at last weekend's concert.
Instead of lyrics about sex, drugs, or other secular topics, though, the bands' lyrics spoke of love, faith, hope, and developing relationships with God, a fact that Jeff Ruprecht, founder of Flashover Youth Ministries, hopes will have a positive influence on teens.
Years ago, Ruprecht was spending a lot of time chaperoning teenagers to Christian concerts in other cities. He began to wonder if it would be possible to bring the touring groups to Paynesville, and when the auditorium was built at school, he knew he had found the perfect venue for the concerts. Knowing how much influence music has on teenagers, he thought it was important to find a way to get teens excited about God.
Ruprecht himself loves the music he is bringing to Paynesville. He has long been a listener of Christian radio, and he introduced many teens at St. Louis Catholic Church to Christian music from his own CD collection.
"I think if I can bring the kids the same heavy metal or rock music with positive lyrics, I can get them excited about their faith," said Ruprecht, also a father, though his boys are not teenagers, yet. "Then the church will come."
Junior Melissa Andrie is one of the kids Ruprecht exposed to Christian music. "I didn't even know who these bands were when Jeff said they were coming," she said. "But I listened to his CDs, and I liked them."
"It's a great thing Jeff is doing, getting good groups to play locally. By the Tree and Phat Chance are both big names in contemporary Christian music," said Jonathan Dobowey, youth leader at Crystal Hills Assembly.
About 15 teenagers from Crystal Hills Assembly attended the concert. Some already knew the bands because they get a lot of air play on Christian radio stations, and some didn't know what to expect, but they were all excited, said Dobowey.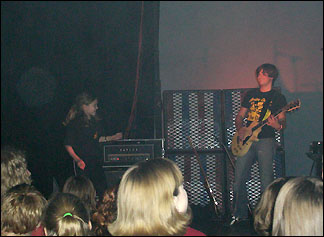 "Just to have something to do on Saturday night that doesn't involve drugs or alcohol is a good thing," said Diane Nelson, youth leader at Paynesville Lutheran Church. "I think it's wonderful since its the music kids are into."
A girl even gets a chance to dance on stage with one of the bands.
Nelson feels the concerts are important for kids who may not be exposed to God any other way. She also likes that the events are interdenominational. "There are many different ways to lead a faith-filled life. That, I believe, is by God's design," she said.
Flashover Youth Ministries, which has a board of directors, hosted their first event in January 2002. This event featured a Christian rock band and comedian.
Before the event could be held, however, Ruprecht and several volunteers spent months organizing and planning. One huge hurdle had to be overcome before the auditorium could be a venue for rock concerts. While the auditorium is a beautiful environment for a concert, said Ruprecht, rock-and-roll light shows take more electricity than the auditorium's original electrical system could handle.
Fortunately, said Ruprecht, Flashover Youth Ministries was able to raise money for upgrades, and a local electrician was generous with his time to make the upgrades. With the new electrical system, the auditorium can handle the sound systems needed by the bands. "I can't hear anything," said Tanya Whitcomb, a ninth grader at PAHS, after being exposed to two-and-a-half hours of loud music.
"But it was worth it," she grinned. Another new fan said she should have worn ear plugs, but she didn't expect real rock music to come from a Christian band.
Dependent on private donations to get the first concert off the ground, Ruprecht's goal for each event is to break even and maybe have enough left over to pay up-front costs for its next event. Thanks to a good turn-out, Flashover Youth Ministries managed to break even on their first event with ticket prices only $7 each.
Last week's concert took even more planning and cost more to stage than the first one. With the help of some private donations and volunteers, the group broke even with ticket prices at $15.
Ruprecht said he can soon begin planning the group's next event.
According to Ruprecht, the group is all about faith. In fact, Flashover Youth Ministries got its name when the longtime firefighter compared faith to a fire.
"There is a time, usually in the beginning, that a fire smolders because it is lacking something, maybe fuel or oxygen. Faith can be the same way, " explained Ruprecht. "A flashover happens when the missing ingredient is added, fuel or something to get these kids excited, and the fire takes off and becomes all consuming. That's what we want our kids' faith to be like. A flashover burning out of control."
---
Contact the author at editor@paynesvillepress.com • Return to News Menu
Home | Marketplace | Community
---