Farmers welcomed rain, planting nearly done
This article submitted by Linda Stelling on 5/12/98.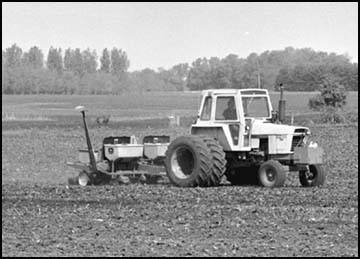 With little or no precipitation this spring, the farmers welcomed the rainfall last week.

ďThat was a $2 billion rain we received,Ē Melvin Kunstleben said. ďI donít feel the soybeans would have made it without the needed moisture.Ē

Kunstleben said he has completed his spring planting while many other area farmers are nearing completion.

ďThis is the earliest I can recall having everything planted,Ē Kunstleben said.

As of May 3, 81 percent of the stateís corn crop was planted, according to the Minnesota Agricultural Statistics Service. This is the greatest percentage of corn planted this early in the season in records dating from 1956.

Kunstleben said the soil conditions were nice in comparison to other years. ďIt is hard to find something to complain about this year,Ē he added.

ďWith this rain and a little sunshine, we can expect to see the alfalfa in the prebud stage within a week,Ē Kunstleben said. ďI think the alfalfa had a touch of frost earlier last week as in the low spots there were a few white areas.Ē

Tim Wegner, north of Paynesville, said he has all his corn planted, and more than half of his soybeans are in.

ďThe fields where there was lighter soil, the fields were pretty dry,Ē Wegner said. ďThe heavier soils still had adequate moisture.Ē

Oluf Johnson, south of Paynesville, said his corn is all planted and he still has a few beans left to plant.

ďThe fields were a little on the dry side before the rain last week,Ē Johnson said. ďWe need the moisture all year-round. However, if the spring starts out on the dry side what will the fall season bring?Ē

Johnson canít recall the last time he planted soybeans in April. ďThis is the earliest we have planted a lot of things,Ē he added.

Doreen Thorson, southwest of Paynesville, said they finished with all their planting on Wednesday, May 6.

ďThe fields were starting to get a little dry and the rain was needed,Ē Thorson said. The Thorsons have received an inch of rain now in two separate showers, a week apart. ďThat will really help the seeds to sprout,Ē she added.

Mrs. Dan Olson, southwest of Paynesville, said they are almost through planting everything. ďThe corn is done except in a few spots where the ground is too cold. Most of the beans are planted, just a few acres left,Ē she added.

---