Hoppe attends national BPA convention
This article submitted by Linda Stelling on 5/12/98.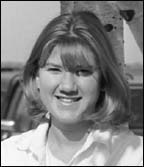 Maria Hoppe, Paynesville, partici-pated in the April 29 to May 3 National Leadership Conference of Business Professionals of America in San Antonio, Texas.

Hoppe competed in the office assistant category. She said it consisted of 25 multiple choice questions. ďAn individual was to pretend they were in a model office. We were required to prioritize the tasks for the day, set up a trip itinerary, establish a financial budget for the trip and organize an address book alphabetically,Ē Hoppe explained.

Hoppe has been active on the local level during the 1997-98 school year.

About 3,000 secondary and 1,000 postsecondary students from throughout the United States participated in Business Professionals of Americaís 32nd National Leadership Conference. Activities included general sessions with keynote speakers, business meetings, leadership workshops, occupational and specialized competitive events, election of national officers and tours of San Antonio area sites.

A junior, Maria is the daughter of Pete and Joyce Hoppe, Paynesville.
---