Senior Girl Scout troop has been together since first grade
This article submitted by Linda Stelling on 5/12/98.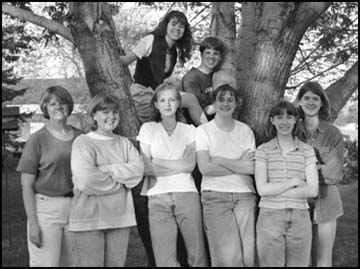 On Monday night, May 11, a group of Paynesville Girl Scouts graduated from Girl Scouting. That may not be so unusual, but not many troops stay together from first grade through to their senior year.

The girls held their meetings in Bev Strand's first grade classroom until the girls outgrew the desks.

"When we go to district Girl Scout meetings, other leaders are surprised to learn we have a troop of senior girls. Most girls drop out of scouting before they reach senior high," Betty Freilinger said.

Freilinger took over the troop when they needed a leader. "I told them I would give it a try for one year and it lasted 12 years," she said. "The troop started out with 22 girls and there are seven who graduated this week... Elizabeth McCarney, Lindsey Moser, Jennifer Wendlandt, Molly Meagher, Sarah Lahr, Amy Strand, and Kristen Freilinger."

Monday, May 4, was the girl's last official meeting as a troop. "That's a sad thought," Lindsey Moser added.

Freilinger said it has really been fun watching the girls grow from young girls to young ladies. "I'm going to miss not having the monthly meetings at the house," she said.

"I've really enjoyed the group of girls," Freilinger said. "They have provided me with a lot of 'good entertainment,' over the years."

The girls all credit Betty Freilinger as the reason they stayed together in Girl Scouting. "Betty is so organized and willing to do things with us," they said. "She cares about us as individuals, she didn't have any pets."

Among the activities the girls have done over the years include camping at Lake Shetek State Park, Regional Park, Gooseberry Falls, Taylor Falls, Jane Polley Council Camp near Duluth, Smokey Timbers, Shingobee and Sibley State Park.

Among their community service projects, the girls have adopted a highway, helped the library move books during its remodeling, bike rodeo, made bibs for VA hospital residents, and made baby items for the HUGS project. They have also helped the American Legion Auxiliary serve the Memorial Day lunch following the morning program.

When asked what they learned from Girl Scouting, Wendlandt said how to make friends and get along with others. "We have made a lot of friends through Girl Scouting," she added.

Molly Meagher said she learned about trust and friendship through Scouting. She joined the troop in third grade.

Lindsey Moser said teamwork and cooperation were big things she learned through scouting. "We are all individuals with our own ideas and we learned how to work together and still maintain that individuality," she stressed.

Elizabeth McCarney joined the group in third grade and felt she learned a lot about herself through the badge work they did in Scouting.

Sarah Lahr said she learned how to work with younger children and leadership skills through Scouting.

Kristen Freilinger said Scouting stressed the need to work together and cooperation to get things accomplished.

Amy Strand said Scouting taught her how to help others and how to have fun.

"I encourage parents to get involved with Girl Scouting," Freilinger said. "You don't need to know a lot about Scouting, you learn as you go, anybody can do it," she stressed.

All seven girls are working for the "Gold Award", Girl Scoutings highest honor. A few have already completed the work while others are still in the planning stages. The girls have until October to complete their "Gold Award" project work.