Ted's RV Land expands business
This article submitted by Linda Stelling on 5/12/99.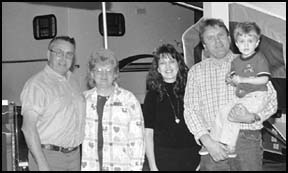 Seeing a tremendous need for more recreation vehicles, Ted Hoekstra of Ted's RV Land decided to expand his business along Highway 55 on the southern edge of Paynesville.

Hoekstra built a 250-foot addition to his business which included a service shop, larger parts department, and indoor showroom. The service shop has five work areas and holds up to eight recreational vehicles. The parts department tripled in size and offers a full selection of parts from sewer hoses, safety cables, add-on mirrors, and more. The indoor showroom holds seven units of various sizes.

Hoekstra started his business five years ago on five acres. Today, there are more than 100 recreational units on his lot.

"Camping has been something I have loved to do since I was a child," Hoekstra said. "My family has traveled throughout the United States graduating from tents to motorhomes. We have been in every state except Oregon and Alaska." Ted's RV has two full time secretaries and 15 employees. Ted is in partnership with his son Jerry.

"We have sold recreational vehicles all over the country, including Australia and Norway," Ted said. They feature six different franchises from motorhomes, travel trailers, fifth wheelers, and tent trailers.
---