Deegan will retire from teaching after 31 years
This article submitted by Michael Jacobson on 5/12/99.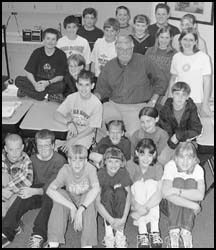 To Rick Deegan, there's no better compliment than having his former students drop by his sixth grade classroom to visit.

He's been having quite a few visits, and been hearing quite a few compliments since he decided to retire two months ago. More than he heard in his previous 31 years of teaching, he claims.

Cards, compliments, and kids coming around their old classroom are all wonderful, but they make leaving for good difficult. On the last day of school, Rick said, "There will be a lot of joy and a lot of sadness."

Deegan had tears in his eyes when he brought his resignation letter to the district office. He called his decision to retire one of the two toughest decisions he's ever had to make.

"I still enjoy teaching," he said. "I enjoy working with kids, and I enjoy the people I work with. We have a staff that really cares about kids."

"I'm leaving the teaching profession with a lot of great memories. Working with kids keeps you feeling young," he added. "Every student has been very special to me. I will miss the kids the most."

While emotionally he will regret leaving the classroom, financially he couldn't afford not to retire. That's a rather unusual situation. In 1968, the teachers' retirement fund was not doing particularly well, and teachers were advised to switch their money into another investment. "I must have missed the meeting," said Rick. "I didn't check the form. I don't know what happened."

He learned in February that his retirement plan made a resurgence over the years. It's done so well that teachers like him were given the option of retiring early this year, with a better pension.

Rick credits Dick Realdsen with pushing him to find out if he qualified for the early retirement. If he would stay another two years until he qualified for the rule of 90, like he had originally planned, he'd lose at least $500 a month in pension payments. "I'm getting more for less," he said.

So financially, he feels like he won the lottery. "I'm really fortunate," he said. "In the same breath, I'm really not ready."

"I am not burned out from teaching," he added, "and I'd rather go out that way."

Rick grew up on the Fort Totten Reservation in North Dakota. The pride he has in his Native American heritage is evident in the art work in his classroom. He said the experiences he had while living on the reservation for 13 years helped him to get along with kids from all kinds of backgrounds.

After serving in the army, he attended Valley City State College and graduated in 1968. He started his only teaching job in Paynesville in the fall of 1968.

He has taught here for 31 years, and coached for at least 20 years as well. He coached the varsity basketball teams for both boys and girls, each for three years. Additionally, he coached basketball, football, and track at the middle school level.

The biggest change he's seen in education has been all the new technology: computers, e-mail, the Internet. "Accessing information has been made a lot easier for students," he said. "Students are also expected to do more than in the past. Most students are really good at this."

He supports learning outside the classroom, and feels everyone needs a break from the textbooks. The most memorable experiences in his class were taping the talent show and making fry bread and jerky. "School has to be fun," he explained, "and it can be. Our job is a lot easier if kids enjoy coming to school in the morning."

His wife, Wanda, is a nurse for the Paynesville Area Health Care System. Their three children–Kerry, Pat, and Angie–graduated through the local school system. "Paynesville has been a very good place to raise a family," said Rick.

For his initial retirement, Rick plans to hunt, fish, and play with his two grandsons. After relaxing and enjoying his favorite hobbies, he may pursue other interests at a later date. He's looking forward to not having to be home Sunday night to get ready for school the next morning and to having his freedom tempered only by a "Honey Do" list from his wife.
---