Backstop Sports Bar offers variety
This article submitted by Linda Stelling on 5/12/99.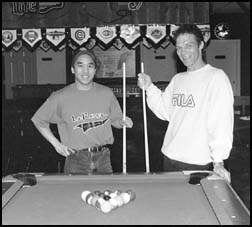 In looking for a challenge, the owners of Northern Lights Dining and Lounge wanted to be able to offer their customers some new activities.

Ed and Sheila Stienemann and Larry and Pat Hesse purchased Bernie's Barn (Northern Lights) in October 1997. "It took us a while to learn the business and feel comfortable in our respective areas," Ed said. "Our banquet and dining areas are doing extremely well," he added.

With two distinct bar areas, Stienemann felt they could be offering the customers more. In brain storming with friends, they came up with the idea of "The Backstop Sports Bar."

"We had a free taco night last year and customers were asking if we were going to offer it again. We thought the sports bar would be the place to do this," Stienemann said.

They had designated a separate entrance for the sports bar from the dining area.

Josh Kirkpatrick, Atwater, former disc jockey/salesperson was hired to manage the new bar area.

"I thought it was a neat way to meet new people," Kirkpatrick said. Kirkpatrick had been in radio sales two years. "I like the area and feel the Backstop Sports Bar will take off and be successful." The bar area was re-modeled, making it a more comfortable area to work with.

Stienemann said the back room is warm and cozy. With the curtain down separating the area from the reception area, a person can sit back and relax and watch the traffic on Highway 55.

Stienemann said Northern Lights is designed with five different dining areas. He can open up doors and have the place as big or as small as he wants to meet the needs of his customers. Stienemann explained that is why the Backstop Sports Bar is only open Monday through Friday. On Saturdays, he needs the extra space for wedding receptions.

The Backstop Sports Bar will also feature electronic dart games, pool table, foosball table, and television.

The Backstop Sports Bar is open Monday through Friday, 4 p.m. to 1 a.m. This fall they plan on offering Fantasy football, pool league, dart tournaments, and league play.
---