Aaron Zenner, a sixth grader at Paynesville Area Middle School, recently set a new middle school reading record. He received an award plaque for his acheivement of earning the most Accelerated Reading points in school history.

Zenner has read close to 110 books during this school year. He has averaged reading about 14 books per month for the eight months of the school year.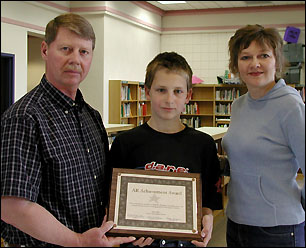 The accelerated reading program started in Paynesville in 1999 and is required for all sixth, seventh and eighth graders. At the beginning of the year, each student takes a test to judge their reading ability. Then each student makes a goal as to how many points they want to earn per quarter.
Accelerated reading points are assigned to each book by the difficulty level. Upon completion of a book, the student must take a computerized test to make sure they read and understood the book.
Aaron Zenner recently received an award plaque for setting a reading record at Paynesville Area Middle School.
Zenner's goal at the beginning of the year was 34 points per quarter, or 136 points for the whole year. His total so far is over 570 points.
"It's fun to have a student far exceed their goal," said middle school media specialist Polly Jaeger.
Zenner said that reading is a way for him to "get away from the world," and he also thinks it's fun. Since the beginning of the school year, Zenner has read close to 110 books. Among his favorites are the "Hank the Cowdog" and "Dear America" series.
He doesn't only read books at his grade level. He has also read many books from the high school library, according to Jaeger. "He's always challenging himself," she said.
"Aaron should be proud. He is a very conscientious student," said his reading teacher Bob Bowden.
The plaque that Zenner recieved congratulates him on 550+ points in the accelerated reading program. The next high score in the middle school is 297, which is still excellent, according to Bowden.
Next year, Zenner plans to make his goal 60 points per quarter, instead of 34.. He will still try to break his record from this year.
Aaron, the son of Allan and Julie Zenner, also enjoys welding, doing chores on his family farm, and working on his go-kart.
---
Contact the author at editor@paynesvillepress.com • Return to News Menu
Home | Marketplace | Community
---