In February, Kathee Martinson received an unusual phone call at work. Someone from West Virginia was trying to find a living relative of the late Norma (Martinson) Magill.

The West Virginia couple were remodeling their house and found a scrapbook dating back to the 1950s in the walls. The book belonged to Norma Martinson who graduated from Paynesville High School in 1950.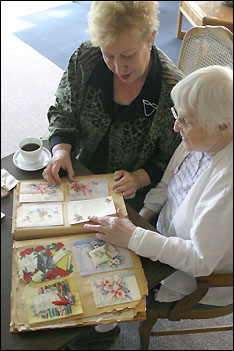 The husband told his wife that she could make three phone calls to find an owner of the book. She began by calling Paynesville, Mich., which proved to be a dead end, except that they knew of a Paynesville, Minn.
Miriam Deadrick (right) and Kathee Martinson (left) recently browsed through a 1950s scrapbook belonging to Deadrick's late sister, Norma (Martinson) Magill, a 1950 PHS graduate.
Calling Paynesville Area High School, the West Virginia woman, Anna McCumbers, talked to secretary Brenda Whitcomb, who knew several Martinsons, and who then called Kathee, whose husband Gene is Norma's nephew. "We were only one phone call away from not knowing this existed," said Kathee.
While the scrapbook's tale for getting back to Paynesville is unusual, it probably pales to the tale of how the book got to West Virginia. But nobody knows that one.
"This is pure mystery as far as the family is concerned. We have no idea how it got to West Virginia," said Kathee.
Norma, who graduated in 1950, was the youngest of six kids in the Martinson clan of Union Grove Township. After graduation, she went to the Twin Cities to work, and through her sister Louise, who married a serviceman from Akron, Ohio, Norma met her future husband, Bradley, called Mack, also from Akron.
That's where Norma (Martinson) Magill moved after getting married. "If it had been found in Ohio, I could have understood it a bit," said Miriam Deadrick, one of Norma's three living sisters and the only still living in Paynesville. How it got to West Virginia baffles the family, who are still pleased to have the scrapbook again.
The book contains report cards, newspaper clippings, her eighth grade diploma, pictures of the senior class play, baccalaureate and commencement programs from 1950, and pictures of her classmates. The scrapbook also contains her congratulatory cards, each noting the present she received, ranging from $1 to $5 to jewelry and clothes. (The family farmhouse had burned down in 1949, said Deadrick, in noting the practical nature of many of Norma's graduation gifts.)
Some of Norma's classmates from 1950 were Palmer Everson, Nick Fischbach, Evelyn (Foreman) Moore, Wes Nehring, Harlan Nepsund, and Delores (Krueger) Schoenherr.
Reading the scrapbook, having it bring back memories, and reminiscing was exciting and fun, said Deadrick. "It's just amazing that (the book) survived," she said.
Kathee Martinson planned to show the scrapbook to all the Martinson relatives in Minnesota, including Deadrick, who lives at 700 Stearns Place, and Norma's sister Sheila, who lives in Litchfield. Then she plans to send the scrapbook to Ohio so Norma's sister Louise can see it and Norma's children can keep it.
---
Contact the author at editor@paynesvillepress.com • Return to News Menu
Home | Marketplace | Community
---