The first class of inductees of Distinguished Alumni for PAHS were honored last week at the annual honors banquet that recognizes seniors graduating with honors.

Ken Olson (1963), ;Ron (Rondo) Olsen (1966), and Bruce Stang (1977) were presented the inaugural Distinguished Alumni Awards.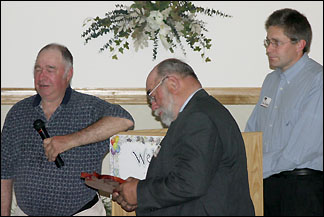 The new awards were sponsored by the "Keep the Quality" Education Foundation, a nonprofit organization dedicated to promoting and improving the local school system.
Philip and Daniel Olson, brothers of Congressional Medal of Honor winner Ken Olson, said they missed their brother but were glad to keep his memory alive while accepting his Distinguished Alumni Award.M
Ken Olson earned the Congressional Medal of Honor, the nation's highest combat medal for sacrificing his life in Vietnam in May 1968. His family received his Congressional Medal of Honor from President Richard Nixon in a White House ceremony in April 1970.
His older brothers, Philip and Daniel Olson, accepted his Distinguished Alumni Award.
Ken, said Daniel, would probably say that what he did - diving on a live grenade and pulling it into his body to save the life of a fellow soldier - wasn't a big deal. "You would have done it, too," his brother would say, according to Daniel.
Philip said it was hard sometimes to think about missing his brother. Both Olson brothers said they were proud of their younger brother and appreciated the opportunity to keep his memory alive.
Olsen, who came from California for the ceremony, is an award-winning journalist who has worked in Los Angeles since 1982. For the past 17 years, he has worked for KTLA-TV, for whom he has covered the Rodney King incident and trial, riots, the O.J. Simpson freeway chase and murder trial, earthquakes and wildfires, and the recent recall of Gov. Gray Davis and the election of Arnold Schwarzenegger.
During his career, which has taken him to seven states and nine television stations, Olsen has frequently wondered, "How did I get here? I'm just a kid from Paynesville," he said.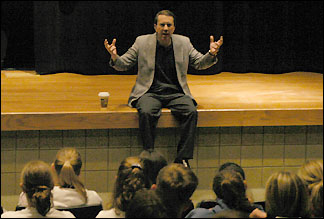 Then, he explained, he realized that he had gotten to everywhere he has been because of Paynesville. "All that I've done, all that I am, started here," he said, "in Paynesville."
"Paynesville is a special place," Olsen told the graduating seniors. "The foundation you've gotten here will serve you well."
Ron Olsen spoke about his journalism career to high school students in the school auditorium before the banquet.
Stang, the owner of Stang Precision in Paynesville, which he started when he was 20 years old and developed into a successful plastics manufacturer, had personal words for the 39 seniors graduating with honors, since his son, Chad, was among them. He praised the generosity of the class and noted that by giving you naturally get happiness in return.
The awards were presented by Paul Bugbee, president of the "Keep the Quality" Education Foundation.
(Editor's Note: Jacobson is a board member of the "Keep the Quality" Education Foundation and helped organize the Distinguished Alumni Award.)
---
Contact the author at editor@paynesvillepress.com • Return to News Menu
Home | Marketplace | Community
---