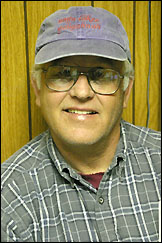 Chuck Nelson, who spent over 20 years patrolling the lakes, rivers, woods, and fields in the Paynesville area as a DNR conservation officer, retired last week.

Nelson, a Mankato native and a Mankato State graduate, worked for the Owatonna Police Department for three years before becoming a DNR officer in the Albert Lea area. After two and a half years, he transferred to Paynesville in 1983.

Conservation officer Chuck Nelson retired from the Minnesota Department of Natural Resources last week after 23 years, including over 20 years in the Paynesville area.

"My goal in life was to be a conservation officer," said Nelson.

His territory was the southwest corner of Stearns County, from Cold Spring to Brooten, including approximately 325 square miles. That territory was smaller than his former one by Albert Lea, which was nearly 1,000 square miles, but it included two rivers (the Sauk and the Crow) and dozens of lakes (including Koronis, Rice, and the Horseshoe Chain of Lakes).

Conservation officers have a broad jurisdiction, said Nelson, protecting the state's natural resources, including its water bodies, its plants and forests, and its animals. Nelson's duties included enforcing fishing, hunting, and boating regulations, firearms and snowmobile safety training, handling complaints, burying dead animals, and tending to injured animals.

What Nelson liked best about his job was getting to set his own hours and getting to work outside.

One of his memorable cases involved a fishing trap on the Sauk River, which Nelson staked out, waiting for the owners to return. When they did, at night, Nelson hit the switch on his flashlight after hearing them lift the trap and the water splashing.

Nelson grabbed one of the trap owners but two others got away, so Nelson called for help. Their search proved unnecessary, though, as the one caught fellow simply called out and his friends emerged from the woods.

While violations may grab headlines, most of Nelson's encounters with anglers and hunters were good, he said. Only a small minority breaks the rules, he said. Most people have healthy respect for our natural resources, he added. As an example, Nelson cited catch-and-release, a type of fishing that was uncommon 20 years ago but is now widespread.

"It was a good 20 years here," said Nelson. "I enjoyed the work, I enjoyed the people, and I had a good time."

Nelson retired after turning 55. He has no specific plans for his retirement but hopes to spend more time hunting and fishing himself instead of watching others hunt and fish.

Nelson and his wife, Pat, a teacher in the Paynesville Area School District live in Paynesville and have three grown daughters.

Nelson's replacement should come to the area this summer. Until then, the area will be patrolled by DNR conservation officers from surrounding areas.
---
Contact the author at editor@paynesvillepress.com • Return to News Menu
Home | Marketplace | Community
---