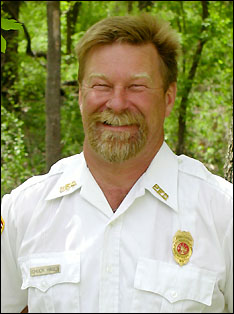 After serving for 20 years, Chuck Hagen retired from the Paynesville Fire Department last month.

Since December 1983, Hagen has dedicated countless hours to fighting fires, working on the rescue squad, attending training, and providing training for other firefighters.

Chuck Hagen has retired from the Paynesville Fire Department after serving for 20 years.

"Having Chuck on the department was fun," said chief Jim Frielinger, noting that Hagen always had a way of keeping spirits high. "He always smiled, even when there didn't seem to be much to smile about."

"It was my way of giving back to the community," said Hagen of his 20 years as a firefighter. "The biggest reward - no matter how small or large the tragedy - was hearing a simple 'thank you' from the people I helped."

Hagen didn't keep track of how many fires or other emergencies he responded to during his tenure, but a few stand out.

Once, while responding to a fire in a trailer house, Hagen and his partner thought they heard a baby crying. They entered the burning structure and searched it, only to find out that the "crying baby" was actually a cat. Of course Hagen was relieved that a child was not in the structure, and he felt good for rescuing a family's beloved pet that day.

One of the things Hagen will miss the most is the close friendships he formed with other firefighters. "Firefighters are trained as a team," said Hagen. "You know when you go into a fire that anything can happen," he added, emphasizing the bond that firefighters share because they have to trust each other with their lives.

Going into a burning structure has gotten much safer in the past 20 years, according to Hagen. When he joined the department, firefighters wore rubber clothing and plastic helmets that weren't necessarily fire-resistant. Many times, the helmets would actually melt on firefighter's heads, said Hagen.

Then, the preferred method of firefighting was "surround and drown" or hosing down a structure from the outside to protect the firefighters.

Now - even though entering a burning structure is always dangerous - state-of-the-art protective clothing make going into a fire much safer than it was in the past.

Another big change in the Paynesville Fire Department during Hagen's years was the addition of a rescue squad in the late 1980s. When Hagen first joined the fire department, most of the calls were for fires. Now, 65 to 70 percent of the calls are medical calls, he said, and all of the members of the fire department are trained as first responders.

Hagen was one of the first firefighters to jump at the chance to train as a first responder, just as he jumped at the chance to participate in any other training that was available. In fact, Hagen worked as an instructor at Alexandria Technical College when area fire departments did training there.

In addition to formal training, Hagen tried to learn from every rescue call. "Every call has a potential for training," he said. After every response, Hagen and his team members would discuss the fire, what went wrong, what went right, and what they should have done differently.

Hagen, who was raised in Irving Township and graduated from New London High School, went to Alexandria Technical College to study aviation mechanics before returning to Paynesville. He worked for various auto repair shops before he started working for Voss Plumbing and Heating in the early 1980s. He was encouraged to join the department by his boss, Joe Voss.

Hagen still works for Voss Plumbing and Heating, but his new role as a commercial contractor takes him out of the area for most of the work week, making it difficult to stay on the fire department.

He will use some of his additional free time to tour on his Harley Davidson motorcycle and to play golf.
---
Contact the author at editor@paynesvillepress.com • Return to News Menu
Home | Marketplace | Community
---