Nearly 95 percent of PAHS sophomores passed the Basic Skills Writing Test this year, with Paynesville passing more than 90 percent of its sophomores for the eighth straight year.

The test has been given each year since 1998-99. This is the fourth highest passing rate for Paynesville during the eight-year life of the writing test, with its top four passing rates all being in the past four years. Paynesville's highest passing rate was 97.9 percent in 2003-04.

Paynesville's students topped state averages for passing rate (94.6 percent for PAHS and 92.6 percent for the state) and for average score (3.6 for PAHS and 3.4 for the state).

Compared with the surrounding school districts, PAHS did not score quite as well this year as last, when they had the second highest passing percentage and tied for the highest average score. With six neighboring schools surpassing passing percentages of 97 percent - including Eden Valley-Watkins with a perfect percentage of 100 percent - Paynesville ranked eighth of nine despite passing 87 of 92 students.

"While we didn't do quite as well as usual compared to the other schools in the area, I think 94.57 (percent) is a pretty good score," said Amy Flanders, who teaches English classes to sophomores at PAHS.

"With 92 sophomores taking the test, the passing or failing of each student can really change our score, so our scores are bound to fluctuate a little now and then."

PAHS sophomores tied for fourth among neighboring schools for best average score. Melrose led with 3.8, followed by EV-W and New London-Spicer with 3.7s. Paynesville and Rocori tied with 3.6s.

Average scale scores among local school districts - and the overall state average - jumped three tenths of a point this year. The state average, for instance, went from 3.2 to 3.5.

Flanders did not know a specific reason for this increase. "It's possible that more schools are teaching to the test, abandoning regular curriculum to spend more time preparing specifically for the test," she said. (See chart below.)

Sophomores across the state took the Basic Skills Writing Test in January. This year, students had to write about an adult whom they admired.

Current high schoolers - grades 9-12 - must pass the writing test, and the Basic Skills reading and math tests first given to them as eighth graders, to graduate.

Current students eighth grade and younger, however, will not need to take the Basic Skills tests. Instead the Minnesota Comprehensive Assessments are being revamped to serve as the Basic Skills tests, too.

Current middle school students will need to take the writing MCAs as ninth graders, the reading MCAs as sophomores, and the math MCAs as juniors. So, no Basic Skills tests were given to PAMS eighth graders this year (though students grades 3-8 did recently take the MCAs).

Next year, current ninth graders will take the Basic Skills Writing Test as sophomores, and the current eighth graders will take the Writing MCA as ninth graders. After that, students will be in sequence to take the writing test as ninth graders, the reading test as sophomores, and the math test as juniors.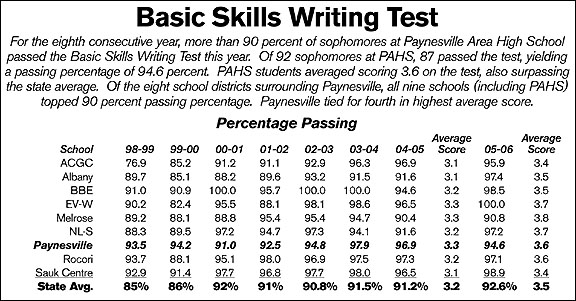 ---
Contact the author at editor@paynesvillepress.com • Return to News Menu
Home | Marketplace | Community
---