Diocese honors seventh grader
This article submitted by Linda Stelling on 5/9/01.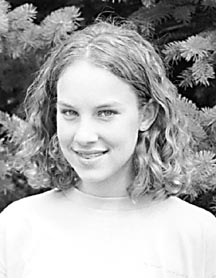 Paynesville seventh grader Kacie Wander, 12, will receive a 2001 Opening Doors Award on Sunday, May 20, at the 8:30 a.m. Mass at St. Louis Catholic Church, Paynesville.

The award is given annually through a cooperative effort of Catholic Education Ministries and Catholic Charities of the St. Cloud Diocese. The award recognizes efforts of people who include and empower persons with disabilities.

Wander was honored for her work with an autistic child from St. Louis Catholic Church.

Phyllis Gardner, christian education coordinator at St. Louis, asked Kacie if she would work with the fourth grader, as a religion teacher was having problems with the autistic child being disruptive in class.

The autistic child wasn't a stranger to Kacie, as they ride the school bus together and their parents are friends.

"I would help with her religion book," Kacie said. When she had tantrums, Kacie would take her out of the classroom and walk around the church with her, and then return to the classroom or read with her in another room at the church. This always seemed to calm her down.

Through her work at church, Kacie has learned there is more to life than herself and her family. Other people need help, she explained.

"I look at other people differently," she said. A different person exists inside each of us, but many of us only get to know the outward appearance a person gives forth, she added.

Kacie also helps this autistic girl at Girl Scout meetings and on troop outings.

"She is a very nice girl when not having tantrums," Kacie said. Because of her work with this autistic child, Kacie tries to make others aware that they shouldn't make fun of people because they have disabilities.

Kacie is the daughter of Bob and Judy Wander of Paynesville. The St. Louis Catholic Church will receive $500 as part of the award.
---