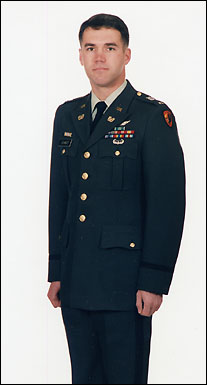 Paynesville native Bill Schmidt (pictured at right) is saving lives while deployed in the Middle East.

As a Black Hawk helicopter pilot attached to a medical unit, Bill's job is to transport wounded soldiers Ð and possibly Iraqi civilians Ð to medical facilities for treatment.

Bill has been in the Army for nearly 19 years and has been a medi-vac pilot, stationed at Fort Riley, Kansas, for the last year and a half. He has been in the Middle East since mid-April.

Although he can't tell his wife Kris any details about his missions since he has deployed, he has told her he is flying a lot, she said.

Since he left, phone calls and e-mails are scarce, but Bill's father, David Schmidt of Paynesville, got a call from his son last week. According to David, Bill's unit was in Kuwait and was soon to return to Iraq. David hopes his son will be home in a few weeks, but Kris, who also got a call from her husband recently, has been given no return date.

"He's in good spirits," she said, "But he said he would give anything for a shower,"

Bill joined the Army soon after graduating from PAHS in 1983. Trained as an aircraft mechanic, he attended college and earned a degree in aviation that allowed him to attend flight school and become a warrant officer. He has been flying Black Hawks for the last 14 years.

No stranger to separation, Bill has been on so many deployments for training and other missions, Kris has lost count of them. Last year he spent five months in Saudi Arabia, but had to come home early when his mother Ardine died.

Several years ago, Bill flew a mission in Cambodia searching for MIA/POWs, a mission of which his father, an Air Force veteran of the Korean War, is particularly proud. Until now, though, Bill has never flown in a war zone.

Kris has faith in her husband as a pilot and in his leaders. "I'm not as worried about him as I thought I would be," she said.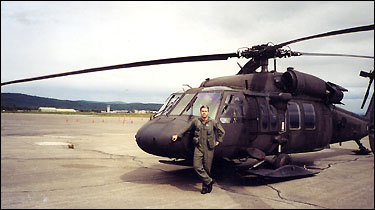 Besides being a pilot, Bill is also the officer in charge of making sure flight crews and other pilots are ready Ð both physically and mentally Ð to fly, a fact that gives his wife comfort.
Bill, a chief warrant officer, is currently in the Middle East flying medi-vac missions in a Black Hawk helicopter.
The couple's little girls, Rebecca, almost three, and Hannah, ten months, are both too young to understand where their father is and what he is doing. Rebecca understands only that her father is taking sick people to the doctor with his helicopter.
The family lives on post at Fort Riley, which has been good for Kris and the children, said Kris. The command has given its families unwavering support during the deployment, she explained.
Hopefully, this will be Bill's last long deployment. He has been in the Army almost 19 years and hopes to retire after serving 20 years.
According to Kris, Bill never intended to stay in the Army this long, but after the first enlistment, the Army kept sweetening the pot to encourage him stay. Before he knew it, 10 years had gone by, and Bill decided since he had met the half-way mark, he should stay until he could retire, she said.
After retiring, the family may return to the Paynesville area to be close to Bill's family as well as Kris's family in Spicer.
---
Contact the author at editor@paynesvillepress.com • Return to News Menu
Home | Marketplace | Community
---