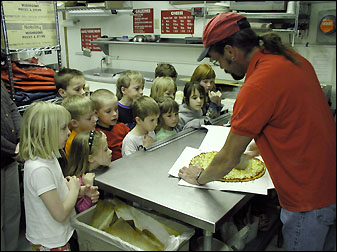 Usually a budget cut means a reduction in service. But at least one "cut" at the Paynesville Area Schools is paying extra dividends for the youngest learners in the district.

Teachers, parents, and administrators agree that offering all-day, everyday kindergarten at Paynesville Area Elementary School has given students more time to learn the academic content and tmore time to learn the social skills needed to succeed at school.

The expanded school day has allowed the kindergarten classes more time for review and to enrich their curriculum, like taking a recent trip to Jimmy's Pizza. Here Dina Hengel's class watches pizza being cut into slices.

Kindergarten is so important because it sets a successful tone for the next 12 years of schooling, said elementary principal Todd Burlingame. "If these kids have a positive, successful experience in kindergarten, they're going to have a positive attitude towards school."

Teachers approached the school board in the winter of 2002 about offering an all-day, everyday kindergarten program in the 2003-04 school year, when the board listed cutting the noon transportation as a likely budget reduction. Without that noon transportation, either all-day alternate day kindergarten or all-day everyday kindergarten were the only choices.

The teachers approached the board because they thought – and heard from parents – that an alternate-day program would be inconsistent and would lack the ideal amount of repetition.

Kindergarten teacher Dina Hengel had her own daughter attend an all-day, alternate-day kindergarten in another district. "I didn't realize how bad it was until we went back to half days," she said. "You do what you have to for your job, but seeing the gains in half days and now with all days, I can't think of going back."

The biggest drawback to an all-day, alternate-day program is the inconsistency. With Minnesota winters causing missed days of school, either when the weather dictates that school closes or when a student catches a cold, students could possibly miss entire weeks of schooling.

Alternate-day programs not only are inconsistent in the classroom but lead to inconsistent home lives. "One night you had to get your kid to bed; the next night you didn't," explained kindergarten teacher Lou Louis. "It put the whole family life in a jumble."

Technically, PAES still offers an all-day, alternate-day kindergarten program. That's the no-cost option available for everyone, but the school offers extra days through Community Education for a fee, and this year all the students opted for the all-day, everyday frequency.

Having the students all-day, everyday has given the teachers more time to teach the curriculum. Before, on the half-day schedule, the teachers ended up picking and choosing their lessons but now they report that they are further along in their curriculum.

The three kindergarten teachers think more students are reading, more students are pre-reading (forming sounds and rhyming), and doing simple math. And they have fewer referrals to special education, in part because the students get more repetition in the longer days.

This year, the kindergarten classes have more time for things like smart centers, a hands-on review. Before Colleen Pelton's class might have been lucky to do smart centers once a week, while now she tries to incorporate them everyday.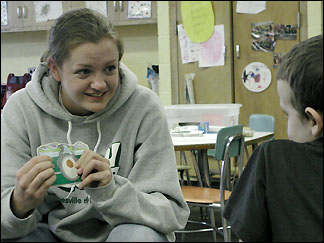 Social learning is often needed before academic progress can even begin, and the social skills of incoming kindergarten students is more varied than ever, the teachers agree. Having more class time this year has helped all the students to develop these social skills.
Senior Mindy Meagher helps Kevin Rung with a review exercise in Colleen Pelton's kindergarten room. Due to larger class sizes, the kindergarten classes have relied on volunteers and parents to help.
"The gap has narrowed," said Burlingame, who predicts that fewer students will need to be retained in kindergarten as a result.
"These kids have made leaps and bounds," added Burlingame. "The first grade teachers are going to notice a big difference."
In addition to their academic progress, when these students start first grade next fall, they already are going to know the full-day school routine. They know how to go to lunch, how to go to the library, and how to go to gym.
"It certainly appears to be a program that's providing a better head start for students as far as skill development and social development," said superintendent Howard Caldwell of this year's kindergarten program. "There's no question that by having them there all day it's going to better prepare them for the next step educationally. I think it's been a good thing."
If this new kindergarten program proves to be as successful as district educators think, the district may have to revamp its elementary curriculum to accommodate the accelerated learning, said Caldwell.
All-day, everyday kindergarten "is wonderful for kids," agreed Pelton. "We just dream of having regular class sizes."
When the switch to all-day, everyday kindergarten was decided last winter, the highest projection was for 75 students in kindergarten this year. Due to retentions and additions, 76 actually enrolled this fall, higher than expected. This has led to class sizes of 25 or 26, which everyone agrees is not ideal.
The kindergarten classes have relied on more volunteer help from parents, other volunteers, and high school students to handle these numbers.
During September, the students were given Wednesdays off, which helped the students get used to attending school and helped the teachers prepare themselves for the switch to all-day everyday. Getting the students into the school routine is always challenging, said Pelton, but particularly challenging with so many students.
While everyone wishes we could have smaller class sizes, the district can only offer what it can afford, said Caldwell. In order to afford the all-day, everyday program this year – which required the addition of one full-time teacher (since the all-day, alternate-day program could have been divided into four sections taught by two teachers) – the school district did charge for the enrichment time: $0 for the year for students whose family qualified for free lunches, $200 per year for families who qualified for reduced-price lunches, and $400 for other families.
A decision on class sections in kindergarten for next year has not been made by the school board yet, but it could be made at the board's next meeting on Tuesday, May 13, at 2 p.m. in the middle school media center. Up to 80 kids will turn six in the next school year, but a number have summer birthdays. A better projection of next year's kindergarten enrollment was expected after last week's kindergarten round-up.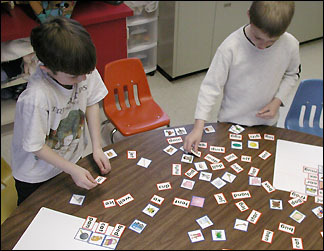 The district also has not decided if the fees for the enrichment program should continue as is or if they should be raised.
In the past two years, Karen Mogard has had a daughter in the half-day program at PAES and has another daughter in the all-day program this year. She said she was equally impressed but liked that the teachers can spend more time on topics this year since they have more class time.
Trevor Mead and Bryce Savage match words with pictures in a review exercise in Lou Louis' kindergarten class.
"I've been very impressed with the program," said Mogard. "The teachers implemented it very well." Mogard actually would not mind if the district went back to a half-day program but only because as a stay-at-home mom she would get to spend more time with her daughter.
Amy Syvertson also has had kids in kindergarten the last two years and has noticed some differences between the half-day and the all-day program. With the all-day program, the classes are not crammed for time like last year, said Syvertson, who also volunteers in a kindergarten class. "I know the kids are getting more repetition, which is important," said Syvertson. "I see a lot more activities repeating the same content."
Syvertson thought that half-day kindergarten would be her first choice but after a year of having her daughter attend all-day everyday she has changed her mind. It actually surprised her, she said, that she likes all-day, everyday kindergarten better.
The kindergarten teachers and Burlingame rate all-day, everyday kindergarten as the best option for student achievement.
Caldwell sees all-day, everyday kindergarten as a growing trend in the state but feels the district will have to charge to offer it until the state pays for expanded programs. Right now, the state values kindergarten students as a half student, meaning the state expects schools only to offer half-time kindergarten.
"If it's proven that this is a valuable program for kids – which everyone is saying that it is – I think the state will have to recognize that with the appropriate funding level," said Caldwell. "I think that's got to happen, but it might not until better times at the state."
---
Contact the author at editor@paynesvillepress.com • Return to News Menu
Home | Marketplace | Community
---