McCarney earns Girl Scouts' highest award
This article submitted by Linda Stelling on 5/5/98.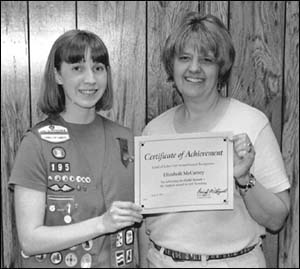 Elizabeth McCarney, Paynesville, received word recently that she has earned Girl Scoutings top award, the gold award.

McCarney presented her project at the Land OíLakes Girl Scout annual meeting in Brainerd on April 15.

Her project was based on disability awareness. She started thinking about her project the summer of 1997 while taking a course with her father, Kevan, on light diversity and accessibility training.

ďI found the course interesting and noticed the school didnít have enough handicap parking,Ē McCarney said.

She also concentrated on helping her church become more handicap accessible.

Her project included getting two things accomplished: more handicap parking at Paynesville Area High School and getting a handicap accessible unisex restroom installed at the Nordland Lutheran Church, rural Paynesville.

McCarney met with church officials in November and her project was approved in December.

At the high school, she met with John Janotta, principal, and Lew Storkamp, buildings and grounds supervisor. She also received approval from Howard Caldwell, district superintendent for the project.

McCarney said the projects helped her become more organized, how to work with other people and that a person must go through several different steps before getting something approved.

McCarney joined Girl Scouts when she was in third grade. She is a member of Troop 195 with Betty Freilinger as her leader. Her gold award panel liaison was Lou Louis.

The last Paynesville Girl Scout to earn the gold award was Linnea Louis.

A senior at Paynesville Area High School, McCarney is a member of the marching and concert band, National Honor Society, danceline, is a peer helper, and served as junior editor on the year book. She was a member of the St. Cloud All-Area Marching Band last summer and is a Sunday school teacher at Nordland Lutheran Church.

Her hobbies include movies, traveling and playing cards.

Next year she plans on attending Cottey College, Nevada, Mo.

In Girl Scouts she has enjoyed their camping outings, the Chicago trip and their meetings.

An awards ceremony is being planned for early August.

Elizabeth is the daughter of Kevan and Marcia McCarney, Paynesville.
---