Harmonica Band enjoys making people happy
This article submitted by Linda Stelling on 5/5/98.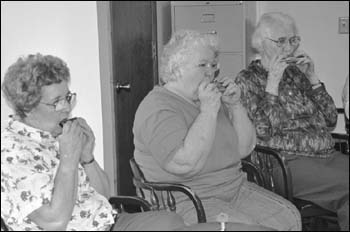 A group of 12 senior citizens gather at the Paynesville Area Senior Center to practice their music.

Some of them bring one instrument while others have two or three they like to play. These arenít your everyday instruments but harmonicas of all sizes.

In June of 1997, Bill Schultz organized the band. They have been meeting once a week to learn how to play the harmonica and various tunes. Most of the band members never played a musical instrument before joining the band. They donít know how to read notes, but said they play by ear. ďWe just followed Billís instructions as to what type of harmonica to buy,Ē another said.

ďWe are having a good time and it keeps us happy,Ē Lorraine Adams, band member, said.

Another band member said she enjoys making other people happy with their music.

ďIt helps keep our minds active,Ē Harold Madsen said.

Don Torbenson added playing the harmonica increases their breathing capacity thus they are playing for their health, he joked.

Members of the Senior Citizen Harmonica Band are: Helen Mueller, Mary Schultz, Mary Winther, Eleanora Wimmer, Lura Webb, Lorraine Adams, Catherine Lieser, John Carlock, Ellsworth Schultz, Harold Madsen, Harvey Voss, Don Torbenson, and on the drums, Gen Jerabek. The drum set was donated by Zella Putzke of Annandale.

When Bill Schultz headed south for the winter, Art Voss became the groupís substitute leader with his guitar.

The band has performed at the Koronis Manor, Good Samaritan Care Center, Grace United Methodist Church, Belgrade Senior Club, 700 Stearns, in Hawick and at the Paynesville Area Senior Center.

The band members stressed they are always looking for more players.

---