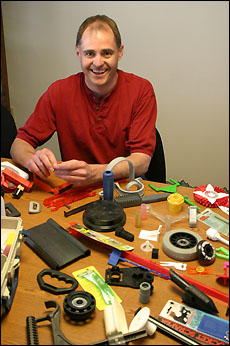 Bruce Stang is so modest that he considered refusing his inaugural Distinguished Alumni Award. So many Paynesville alumni have been successful in so many ways that Stang did not feel that he should be singled out for recognition.

Only after listing accomplishments by his former classmates - including single mothers raising kids (who are distinguished at time management, among other skills, said Stang) - did he agree to accept the award. "I do feel honored and appreciate it very much," he said.

Stang started his business, Stang Precision, in the Industrial Park in Paynesville as a 20-year-old just out of vocational school, where he earned a tool and die degree. Actually, he ordered his equipment while still in school in 1979.

Soon after he started Stang Precision, the economy slowed in the early 1980s, forcing Stang to look hard for work and forcing him to moonlight at another job. The business survived doing farm repair work and other manufacturing until the economy rebounded.

Bruce Stang started Stang Precision in 1979 when he was 20. In the mid-1980s, he started manufacturing plastics, designing and building robotics to his molding machine so it would run nearly 24 hours per day.

Master Mark Plastics was a key customer for Stang Precision, who did repair work and built metal molds for the plastics manufacturer. In 1985, Stang Precision entered plastic manufacturing itself, and Stang used his creativity and skills to add robotics and a warning system to his plastic molding machine, allowing Stang Precision to run that machine nearly 24 hours per day, seven days per week.

Today, Stang Precision has 14 plastic molding machines and 10 employees who manufacture some 200 plastic products, everything from electrical staples to parts for telephones.

Among those who work at Stang Precision are Stang's wife of nearly 20 years, Bernie, who also is an EMT on the local ambulance corps. Bruce and Bernie have two children: Chad, a senior at PAHS, and Holly, a second grader at PAES.

Farmboy
His creative nature got its start on the family farm, said Stang, the son of Harold and Marie Stang, who grew up on a dairy farm a couple miles south of St. Martin, between that small community and Paynesville.

They did not have a lot of toys, so he spent a lot of time in the shop, an old schoolhouse, making his own. He began with toy tractors and implements for them, drags, etc. And he progressed to making go-karts (to be pulled behind a horse because he did not have a motor to use) and a rope-making machine (which he used as a 4-H project).

"If you wanted something, you might have to make it or go without," Stang recalled.

A pitching machine that Stang made might be called a successful failure. A failure because it never really worked well enough to practice batting. A success because Stang had spent a couple weeks working on the project and learning.

Using two boards, a hinge, a basket, and a spring from an old boxspring he found in the grove, Stang built a pitching machine to practice hitting baseballs. Yanking the string for the first try of his machine, though, yielded a pitch that went only a foot and a half. That sent Stang quickly back to the grove for more springs to add more force.

That was so forceful that it released early and caught Stang under the chin, sending him to the ground, seeing stars!

Days later, Stang resumed the project, and he finally got it to work. Standing at the plate after lining up the pitching machine, Stang pulled the string again. "Here comes the ball, floating towards the plate as beautiful as can be," he recalled, "followed by a two-by-four and several springs!"

Had his pitching machine worked better, Stang might have played more baseball in high school and rode the pine less, he said with a laugh. But building things in the farm shop while growing up - with safety requirements set by his parents, including not using the saw - got him started mechanically.

Leroy Notch
Stang attended grades 1-4 at the elementary school in St. Martin. When school consolidation forced country schools to join school districts with high schools in the late 1960s, Stang started attending Paynesville schools in fifth grade. Describing himself as a sometimes honor roll student, sometimes not, Stang said that book learning was not a love of his.

He found his favorite classes, and favorite teacher, in high school. As a sophomore, Stang took metals from Leroy Notch, and as a junior he took welding from Notch. In metals, Stang and his classmates built toolboxes, screwdrivers, and hacksaws.

Then, as juniors, they could build their own projects. Stang built a snowblower for a tractor in welding.

What made Notch special is that he treated all the kids equally and that he encouraged students to try new things and to learn, said Stang. "If you wanted to learn, he fed you every bit of information he could," Stang explained.

"Could I make that?" Students would ask Notch, according to Stang. "Yep," Notch would respond.

"You don't think that'd be too much." The student would add, unsure of his abilities.

"No."

"When I look back, he could have been saying, 'That's too big of project,' " said Stang. But Notch didn't. He encouraged his students to try, to learn, to stretch their abilities.

In Notch's classes, Stang and other students, including his friend Fred Peltz, another St. Martin farmboy who became a successful local manufacturer, were encouraged to be creative and gained confidence as a result. There, said Stang, he found a place to excel.

Notch is a tinkerer/inventor himself, and he even took students to his house to show him his own projects. "The reason he's special to me is he really influenced me and a lot of other kids by the freedom he gave us," said Stang.

Notch remembers Stang as an excellent student, wanting to learn and willing to work. "He was one of the best I had," said Notch. "He never caused any problems. He did what he was told. He loved to work in the shop. You name it. He was it."

After high school - Stang graduated from PHS in 1977 - he attended vocational school at Hutchinson, studying tool and die to become a machinist. Notch helped him select the school. At Hutch, paying for his education, Stang got really serious, he said, finishing the two-year course early.

Stang Precision
Since he did not want to go to the cities to live and work, Stang started his own shop in Paynesville in 1979, Stang Precision.

He, his dad, his two brothers, and an uncle built the shop. He was 20 years old when he started the business. Actually, he was still in school at Hutchinson when he ordered his first equipment.

At the time, the economy was rolling, and there was plenty of work, even for inexperienced machinists like Stang, who was just starting. He made molds or tools - the metal pattern used to mold plastic - for plastic manufacturers.

But, in the early 1980s, the economy slowed. A fuel shortage hurt plastic manufacturing, and Stang had a hard time finding work for his shop. During the day, he would drive to the cities and sit at a Perkins restaurant so he could use the pay phone to make local calls all day and try to drum up work. At night, Stang worked at Louis Industries, a job that Notch helped him land.

Still, Stang could find little work for his shop, due to the slow economy and because he was so young and inexperienced (so he was told).

Then a local farmer, John Buermann Sr., came into his shop one day and asked him to repair a part, which Stang gladly did. That led him to specialize for several years in repair work, going to implements, businesses, and farmers in the area to market his skills. Soon he was busy fixing everything from tractor housings to manure spreader shafts and he even manufactured parts for other businesses.

That local support kept his business going, said Stang, who remains appreciative, especially since so many businesses starting at the same time did not survive.

By the end of 1981, Stang hired his first employee, John Buermann Jr., who was a year younger than Stang and whose father had helped Stang save his business. Buermann Jr. would work for Stang for 17 years before starting his own repair shop. As the economy started recovering, Stang Precision started to do tool and die work again. A key customer was Master Mark Plastics, which relied on Stang Precision to make metal molds for its plastic manufacturing. In fact, one reason why Master Mark Plastics bought the old Wonderalls factory to expand in Paynesville's Industrial Park was the proximity to Stang Precision.

If Master Mark Plastics "needed something made or repaired, we were close," recalled Stang. "It was great. We grew with them."

Plastics Manufacturing
In 1985, Stang bought his first plastic molding machine. His first plastic products were milk valves.

To gain a competitive advantage, Stang designed and built robotics to allow the machine to run around the clock, gaining production time. He also modified a home alarm system to monitor the machine at night, when no one else was working. Instead of sending an alarm for a break-in, the alarm system would notify Stang if something went wrong, preventing the machine from wrecking itself or from manufacturing improperly.

One year, that single molding machine at Stang Precision ran 8,500 hours (out of a total of 8,760 hours in the year). That averages to 23 hours and 20 minutes of operation during every 24-hour day.

While his first shop was just 1,200 sq. ft., Stang Precision now occupies 26,000 sq. ft. in its original location in the Industrial Park. It now has 14 molding machines and a modern machine shop, including computer-controlled equipment.

Stang Precision now has 10 employees, who Stang feels are "unbelievable." Stang Precision makes over 200 plastic products, everything from hubs for rollerblades and tent stakes to parts for plastic bird feeders, tackle boxes, and telephones. Stang Precision also has its own line of electrical staples.

Patents
Stang could hold a number of patents, but he has never pursued them. "Many of our ideas and concepts were patented by our customers," said Stang. "There was no value for us to hold patents if we didn't have marketing for the product. I felt it was better to give away our idea to someone who can market it and hope to produce the product."

Often when Stang Precision is asked to make a part by a new customer, the customer usually just wants the exact same thing with Stang Precision as a new supplier. But Stang feels compelled to see if the part can be improved.

"There's always a better way." That's Stang's motto.

Frequently, it will take an interview with guys on the customer's manufacturing floor, who actually uses the part before Stang hears some complaints about the part. Then he starts thinking about ways to tweak the design and improve the product. "As long as you're going to make something, why don't you improve it?" Stang asks.

Stang, though, has always let his customers pursue a patent, if they desire. Designing and manufacturing an improved product is just part of being a good supplier, said Stang.

Quoting the great American inventor Thomas Edison, Stang said that he had never failed on a project - he just figured out another way to do it.

That creative spirit continues at Stang Precision, though the company can now afford the latest and best equipment, including computer-controlled machines. Modifying machines is a habit for Stang. "Because you believe that everything can be improved, you buy a new machine and you think of ways it could be improved," Stang said.

That creative spirit, born on a farm and nutured while a student in the Paynesville schools, continues to bear fruit for Stang.
---
Contact the author at editor@paynesvillepress.com • Return to News Menu
Home | Marketplace | Community
---