When Doris Nehring was faced with losing part of her late husband's family's history, she took action. With the help of a friend, Doris was able to give each member of her family a functional piece of art that would serve as a reminder of the family's past.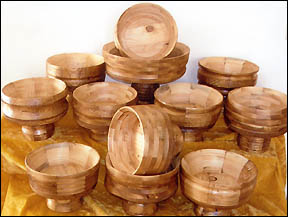 She used lumber from the Nehring farmstead to make wooden bowls that would remind her step-children and step-grandchildren of their heritage.
Dozens of bowls were made for family members from the Nehring family log home to serve as lasting mementos.
The Nehring family bowls were turned on a lathe using wood that formed the original house on the Nehring farm. Doris and her friend Roger Theisen made 12 bowls: one each for her two step-children and eight step-grandchildren, one for herself, and one for Theisen. (Doris also has 22 step-great grandchildren and one step great-great grandchild, but that was just too many bowls to make, she said, laughing.)
Most of the bowls are about ten inches across and sit on a flared pedestal that is about six inches high, though sizes varied, since the pair used no pattern for the bowls. Each of the bowls was finished with a personal inscription from Doris.
For Doris, saving some of the farm was like saving the Nehring history for future generations, while reminding the family of their past.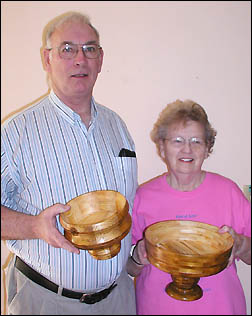 The logs that formed the bowls were once part of the original Nehring farmhouse, a 30-foot by 30-foot two-story structure. Built by John Nehring in the 1860s, the original farmhouse was the center of a "nice black dirt farm" located northwest of Paynesville, said Doris.
Doris Nehring (right) and her friend Roger Theisen (left) salvaged logs and made a dozen wood bowls.
In all, three generations of Nehrings raised crops, dairy and beef cows, hogs, and chickens on the property, while 13 children were raised in the house. Over time, additions were built onto the house. It wasn't even recognizable as a log house when Doris' step-son Warren Nehring tore it down in 1975 to build a new house on the property.
Logs from the old farmhouse were donated to the Paynesville Area Historical Society, which used them to build a replica log cabin at the wayside rest on school property.
Because the replica cabin was on the verge of collapse, Warren - who sold the farm in 1986 - tore the old log house down for the second time last fall. "It was kind of ironic," said Warren of tearing the family home down twice.
He hauled the logs back to his woodpile, where they were destined to become heat for his home. The logs would have been burned, too, said Doris, if Theisen, an avid woodworker, hadn't suggested retrieving them and using them to make something beautiful and lasting.
Making lathe-turned bowls was a labor of love for Doris, who doesn't know how much time was invested in each one. First, Theisen cut the logs into small pieces and then Doris glued them together to form blocks large enough to produce each bowl.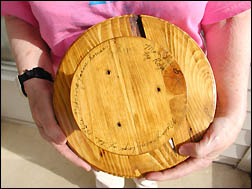 Using his lathe, Theisen turned all but one bowl; Doris completed one after making a practice bowl from cedar.
The real time-consumer was gluing the pieces together, said Doris, though it took nearly an hour to turn each bowl. Because they used no pattern, each bowl bore a different design.
Each of the bowls was finished with a personal inscription from Doris.
When the Nehring children and grandchildren received their bowls, "They screamed, hollered, and drooled," said Doris, beaming. Every one was thrilled to have a piece of their personal history.
Doris was happy the family appreciated the love that went into each bowl, but she was more happy that the Nehring family would now have a lasting reminder of their history, a reminder that can be passed down to further generations.
---
Contact the author at editor@paynesvillepress.com • Return to News Menu
Home | Marketplace | Community
---