Vern Johnson Motors celebrates 50th anniversary
This article submitted by Linda Stelling on 5/3/00.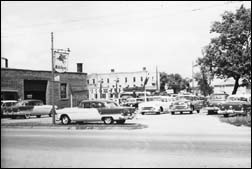 The style of cars has changed, the city of Paynesville has changed, but the building housing Vern Johnson Motors has remained the same. As seen a picture from the 1950s, it basically looks the same today as when it was built 50 years ago.

The Johnson family celebrated the 50th anniversary of their dealership with a week long open house last week.

"The automobile business is fun," Vern Johnson said. "I never thought I would still be doing it 50 years later."

Johnson owned a wood mill in Seattle, Wash., where he made cabinets, office furniture, hospital furniture, and store fixtures. He and his wife, Rita, had parents living in the Paynesville area (Melrose and Litchfield) and decided to sell his business and move back to Minnesota.

Johnson became a partner in the new dealership. Within six years, Johnson had bought out the other ownr and was sole owner.

Customers often would see Vern painting details on cars or washing cars. "I wouldn't ask anybody to do anything that I wouldn't do myself," he said. "I was probably the best dressed painter in town." He was wearing a shirt and tie at the time.

Besides cars and farm machinery, in 1957 the dealership added a marine dealership which included everything from boats and motors to docks. In 1963, Vern purchased the Pontiac dealership. In 1972, the dealership added an indoor display showroom and body shop. Today the business has two mechanics, a detail person, a part's person, body shop person, two office personnel, and two salesmen.

According to Vern, having employees who stay for 41 years like the late Charlie Hunter help you grow.

Over the years the car designs have become more smooth, aerodynamic, and lighter for better gas mileage.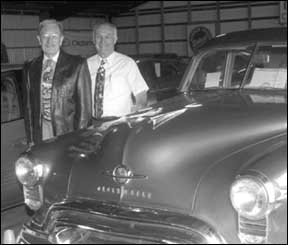 According to Vern, the early cars didn't have a park as part of the transmission, the driver had to put on the emergency brake. Direction signals, side mirrors, radios, and car heaters were optional items.
Both of the Johnson men agreed that today's driver has become spoiled. Now there are power windows, power locks, tilt steering wheels, CD players, cassette players, air conditioning (front and rear), seat belts, and air bags.
"We take so much for granted. We went from basic to luxury," said Dick. "What we once thought we didn't need, now we can't do without," he added.
Vern and Dick purchased a 1950 Oldsmobile 88 to commemorate their anniversary.
Vern and Dick both have pilot licenses. Vern used to fly customers from Paynesville to Kenosha, Wis., to pick up their new vehicle from the factory. "I did this for years," he said. "I enjoy flying and taking customers to the factory to pick up their new vehicles was a good selling tool and a unique customer service," said Vern.
Dick started by sweeping floors in the shop while in high school. He graduated from Hamline University, and also served in the Army National Guard 23 years. Dick has been part of the business 34 years.
Today, Dick does most of the day-to- day management of the auto dealership. Vern still attends car sales and purchases cars to send back to Paynesville.
According to Dick, his goal for the business is to provide affordable transportation to the community and give his customers the best service he can.
Besides selling cars, the Johnsons collect vintage cars, too.
---