Gardner and Ingalsbe chosen for state choir
This article submitted by Erin Aagesen on 5/3/00.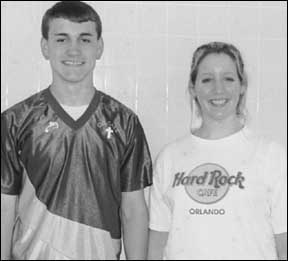 Scott Ingalsbe and Becca Gardner, both juniors at Paynesville Area High School, were selected to participate in the prestigious All-State choir for the coming year. They are the first PAHS students to receive this honor in more than a decade.

To be selected for this choir, the two had to try out at St. Cloud State on Friday, March 24.

A total of 2,350 students auditioned for spots in the All-State band, orchestra, jazz ensembles, and choirs. Only 248 students earned a spot in the choirs. According to Cheryl Bungum, choir director, about a quarter of the students who auditioned were selected for All State. "Those who try out are usually the cream of the crop to begin with," she added.

The last All State choir participant from Paynesville, as known by the Press, was Ron Olsen in 1965.

At their audition, Gardner and Ingalsbe sang a prepared solo for their respective judges. Both sang songs in Italian that they had picked out themselves. "It's more impressive when you sing in a foreign language," explained Gardner.

Also in the audition, they were checked on their tonal memory. The judge played a series of notes on the keyboard and they were asked to sing the notes back. They also did sight singing, or performing of unlearned music. Finally, they were checked on their pitch range.

The two received a letter informing them of their acceptance about two weeks ago. "I was very excited when I heard," said Gardner.

"I was surprised!" Ingalsbe added.

Both of them auditioned for the choir last year as well but were not chosen.

Gardner will sing soprano two in the women's choir, and Ingalsbe will sing tenor two in the men's choir. There is also a mixed choir. Those who are accepted are randomly placed in one of the choirs.

As part of the program, they will attend a week-long music camp in August at Gustavus Adolphus College in St. Peter. There, under the direction of music professors and teachers, the choirs will rehearse music that will be performed at a state convention next February. They are both looking into scholarships that will help defray the cost of the camp.

Bungum said, "They will both get a lot out of it because they are really hard workers."

"It will really be fun to get some kids in, so they can come back and encourage others to join," she added.

Any student in grades seven through 12 is eligible to audition.
---