Kitchen manager joins County Line staff
This article submitted by Linda Stelling on 5/3/00.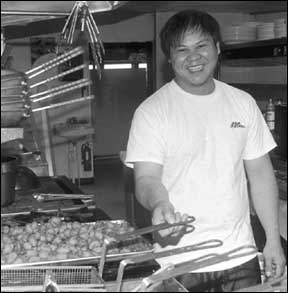 Truong Nguyen (Vinnie) joined the staff at the County Line Bar and Grill in Regal three months ago as their new kitchen manager. A graduate of the Wong Cooking School in Chicago, he has 20 years cooking experience.

He has worked in restaurants in Willmar and St. Cloud and is looking forward to helping build up the business in Regal. "I specialize in trouble shooting and rearranging kitchens so they are more efficient," Nguyen said. "I would like to make the County Line into a family dining establishment instead of a bar and grill. To be successful, a place needs to serve food and liquor together. "

"I like a challenge," he said. "I'm more into gourmet cooking than fast food and enjoy creating different food items. I find the people around here are willing to try new foods which makes cooking new things fun." His specialty is American cuisine.

Nguyen, a native of Vietnam, came to the United States at the age of 14. He, and a cousin, helped more than 60 people escape Vietnam on their fishing boat. "It was scary yet an exciting trip. We were out in the water four days before being picked up by an American ship. I still have a mental picture of that boat in my mind," he said. "I'm a survivor."

"The job provides me a chance to be closer to home," he said. Nguyen grew up in the New London area and is a graduate of the Willmar High School.
---