Students of the Month named for April
This article submitted by Linda Stelling on 5/2/01.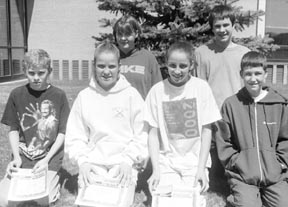 The Students of the Month for April were announced at the Paynesville Area Middle School recently.

To be eligible, students need to maintain good grades, have a good attitude about school, and get along with their classmates.

Students selected were: sixth graders Travis Flannigan and Jacque Schlangen; seventh graders Shawn Buermann and Ashley Attendahl; and eighth graders Ryan Marthaler and Amber Chevalier.

Students of the month for April are Shawn Buermann, Ashley Altendahl, Jacque Schlangen, Travis Flannigan; (back) amber Chevalier, and Ryan Marthaler.

Travis is the son of Tony and Kim Flannigan. His teachers said he works hard and is a responsible student. He is friendly and considerate of other students.

He is a member of the sixth grade band and enjoys playing basketball.

Travis was surprised to be selected but feels his hard work was the reason for the honor.

Jacque is the daughter of Dale and Julie Schlangen. Her teachers state she is a good student, a hard worker and works well within class groups.

Jacque enjoys playing basketball. "I feel good about being named Student of the Month and I'm proud," Jacque said. She contributes her receiving the honor to her grades and paying attention in class.

Shawn is the son of Cyril and Sue Buermann. According to his teachers, he is a good student and hard working in and out of school.

Shawn plays football and basketball, and is a honor student.

"I'm proud to be selected," he said.

Ashley is the daughter of Carol and Allen Attendahl. Her teachers credit her pleasant personality, and her being prepared for classes as the reason for her selection.

"I'm happy and surprised to be selected," Ashley said. She is a good student who gets things done on time, she added.

Ryan is the son of Willie and Joyce Marthaler. According to Ryan's teachers, he is a hard worker, polite, and takes the initiative to work ahead.

Ryan plays summer baseball.

"I've never won anything," Ryan said. This honor made him feel different. He attributes it to his trying harder in school.

Amber is the daughter of Steve and Ginny Chevalier. According to her teachers, she is a hard worker, a quiet leader, and friendly.

Amber enjoys sports and is a member of the eighth grade band.

"I was very surprised," Amber said of her being selected. "I'm good in my classes, and I work hard."
---