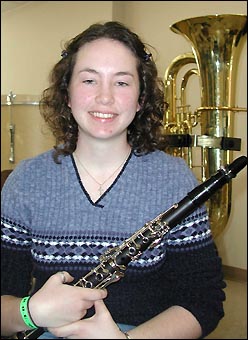 Junior Trisha Chevalier (left) and sophomore Adam Ingalsbe (below) were notified last week that they have been selected as members of All State ensembles.

Chevalier will play clarinet in the All State band, while Ingalsbe will sing baritone in the All State choir.

Membership in the ensembles is chosen through competitive auditions for sophomores and juniors throughout the state. This year, over 2,300 students tried out for the ensembles and less than 600 were chosen for the three choirs, two bands, and the orchestra.

Chevalier and Ingalsbe are the sixth and seventh PAHS students to earn the all-state honors in the past five years, joining Andy Jones (choir) in 2001; Becca Gardner (choir) and Adam Ingalsbe (choir) in 2000; Kelly Loesch (band) in 1999; and Mackenzie Merrill (orchestra) in 1998.

Chevalier, the daughter of Steve and Ginny Chevalier, tried out in March at the University of Minne-sota-Morris with two other PAHS band members. Band members were tested on their ability to play scales, to sight read, and to play an etude, a piece that tests technical ability like fingering and rhythm.

Chevalier also tried out for the band a year ago. "I didn't get in last year, so I wanted to make it this year," she said.

"I was really excited because it's a big accomplishment. I knew that there were a lot of people who tried out and it'd be nice to get in," she added.

Chevalier sits in the first chair in the clarinet section in the senior band at PAHS. "It's great to have her in band," said director Nathan Long. "I can always count on hearing the clarinet part with Trisha in band."

Chevalier has also participated in concert band and marching band at PAHS.

In addition to her school lessons, Chevalier has taken private clarinet lessons since her ninth grade year. She also played in the Willmar Community Band last fall and plays in the Crow River Area Orchestra this year.

She was the top scorer for the band at the sectional solo and ensemble contest in March, scoring 39 out of 40 and earning "best of site" honors.

Since only 30 clarinet players make the All State band and orchestra, Long estimated that Chevalier beat out 100 other clarinet players.

She will attend a week-long camp at the University of Minnesota-Duluth at the end of July. Her 110-member band will be directed by Tim Mahr, the band director at St. Olaf College in Northfield.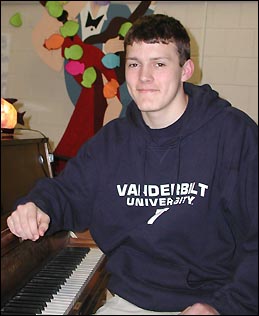 Ingalsbe, the son of Dave and Barb Ingalsbe, joins his brother in having qualified for the All State choir. He is the fourth choral students from PAHS to qualify for All State choir in the past three years.
Six choral students tried out for the All State choir in March at St. Cloud State University. They sang a prepared solo and were tested for their sight reading ability and tonal memory.
"I was excited," he said about his selection. "I did about as well as I could have done in my audition."
Ingalsbe sings bass in the mixed choir at PAHS and tenor in the pops choir. He will sing baritone in the mixed choir at All State.
His camp is at Bemidji State University from Monday, July 29, to Saturday, Aug. 3. "I hope I learn a lot from the camp. It'll be nice to learn a lot from the other people," he said. "I'm looking forward to meeting other people who are in it."
In addition to choir at school, he sings with the worship band at Paynesville Lutheran Church and is in his first year with On Call, a youth music ministry based in Willmar. Previously, he sang in Fast Forward, a similar group for junior high students. He went to a summer music camp on his own last year.
Of the seven PAHS students to qualify for All State in the past five years, Ingalsbe is the first to do it as a sophomore. He will be eligible to try again next year. "I'm really proud of him," said choir director Cheryl Bungum, who called him a strong singer and good sight reader. "He's going to have a great time, and it's really exciting as a sophomore to get in and look forward to having a second, different experience."
The mixed choir that Ingalsbe will be in will be directed by Pete Eklund of the University of Nebraska.
Both ensembles will perform at the end of camp as well as at the Minnesota Music Educators Association convention in February 2003.
---
Contact the author at paypress@lkdllink.net • Return to News Menu
Home | Marketplace | Community
---