Veronica Kost - who sold cars with her husband in Paynesville for over 35 years - can remember the very first car in Avon.

Living with her family in Avon, where her dad taught school, the first car arrived on a Sunday afternoon when Veronica was about nine years old. That would be around 1912 or so.

The new car caused quite a stir in the town, and the new owners gave rides to their neighbors. But when it was Veronica's turn, she had to stay home because she had the mumps while her sister got a ride in the car. Kost, who celebrated her 100th birthday in April, was born in Richmond, the second oldest of 11 children. Her dad was a school teacher, and they moved to Avon when she was six and back to Richmond when she was 15.

Veronica always considers herself lucky because she survived a bout of diptheria in her family when she was six. Half her family - including her older sister, her next youngest sister, her aunt, and her grandmother - were quarantined for several months with diptheria. Everyone survived except her two sisters.

When she grew up, there was no electricity in rural Minnesota, and the family relied on oil or gas lamps. To study, all the kids would gather around one lamp at the table.

When they played, they used their imaginations. "We always had a Christmas tree and a few nice trimmings," Veronica recalled. "If we got up in the morning and maybe got a new hair ribbon or a new tablet and pencil, we were happy. We had no toys in those days."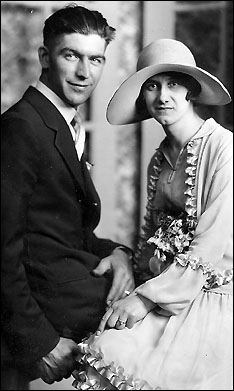 Veronica attended high school in Richmond for two years and then attended and graduated from St. Cloud Teacher's College (now St. Cloud State University).
Arnold and Veronica Kost were married in June 1926 and moved to Paynesville, where they owned and operated a business for 40 years.
She taught country school - by Albany and by Richmond -╩for four years before marrying Arnold Kost in June 1926 and moving to Paynesville. Arnold impressed Veronica when they were dating with a radio that he had built. Only two people could listen at a time on the headphones (when they could find a station at all), but still that radio was so popular that they always had company, said Veronica.
Arnold, originally from Roscoe, started in business in Paynesville, making homemade batteries. His store was located where the Press office is located now. Soon, he was selling radios as well, and eventually became a licensed dealer.
After four years, he bought the building on James Street where Jacklitch Chiropractic was located until recently. For a few years, Arnold operated a service station in that building, and then his dad moved his Chrysler dealership from Roscoe to Paynesville in 1934.
Arnold's father had had a Maxwell dealership, which was later bought by Chrysler. "They always called him the oldest Chrysler dealer," said Veronica, because of that Maxwell dealership.
The Kosts owned the Kost Motor Company, selling Chryslers and Plymouths, until 1966. The family - including four girls - lived upstairs. In addition to raising the girls, Veronica did recordkeeping for the business.
Veronica remembers when Paynesville was a busy place on Saturday evenings, when all the farmers came into town, before the downtown businessmen decided that they did not want to be open on Saturday nights. She remembers when the North American Creamery made ice cream in town and when a house between the elementary school and the hospital was on the outskirts of town.
After retiring, the Kosts built a house on Maple Street, where they lived together until 1976. Six months after celebrating their 50th wedding anniversary, Arnold died.
Veronica did not think she would last long after that but she has lived for a quarter century since. She has outlived all her siblings except her youngest sister, who is now 90 and lives in St. Cloud. One of Arnold's brothers is also still alive.
At 100, Veronica still likes to read, and to play 500, bridge, cribbage, and Scrabble. She plays cards at least once a week and still likes to play Scrabble -╩where she has scored over 300 points in a game - everyday. She still does not like to watch much television. "After (people got television) they forgot about visiting," she said. "They wanted to watch TV."
An active parishioner, she has been a member of St. Louis Catholic Church for over 75 years. She is their oldest current parishioner. At church, she belonged to Daughters of Isabella and attended daily mass regularly for years.
Veronica celebrated her 100th birthday on Sunday at an open house at 700 Stearns Place hosted by her four daughters - Joan Kost of Paynesville, Katy Lindquist of Paynesville, Mary Ann Kost of Brighton, Colo., and Irene Schaefer of Scottsdale, Ariz. Veronica has 12 grandchildren and 10 greatgrandchildren.
---
Contact the author at editor@paynesvillepress.com • Return to News Menu
Home | Marketplace | Community
---