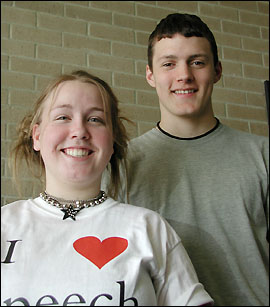 Juniors Adam Ingalsbe (back right) and Sami Tierney (front left) learned last week that they had both been selected to the All State Mixed Choir for 2003-04.

They are the eighth PAHS students to be selected to an all state musical ensemble in the past six years. Ingalsbe is a repeat all-state selection, the first in PAHS choral history it is believed.

They auditioned for the all state choir in March at St. Cloud State University. Over 2,100 students Ð sophomores and juniors only Ð from around the state auditioned, and around 550 were selected for the three all-state choirs, two all-state bands, and the all-state orchestra.

Ingalsbe and Tierney will attend all-state camp at Bemidji State University for a week in August. At the end of the week, they will give a concert. They will give another concert at the annual convention for the Minnesota Music Educators Association in February in Minneapolis.

Last year, Ingalsbe sang in the All State Men's Choir, so when he was selected again he was automatically put in the mixed choir. He said that it was a good experience last year to meet a lot of neat people and to learn from different directors.

"I thought it'd be different in a mixed choir, and there were a lot of people that I know from last year who were going to do it again," he said. "And it was fun."

Tierney auditioned last year but was not selected and tried again this year and succeeded in being selected. "I just think it'll be a good overall experience," she said. "If Adam speaks highly of it, you know it will be good."

Ingalsbe and Tierney sing together in school in the mixed and pops choirs at PAHS. They also sing together in On Call, a youth ministry group. (Their On Call group Ð which also includes Amanda and Chris Kern Ð will give a concert tonight at St. Louis Catholic Church at 7 p.m.)

Ingalsbe and Tierney have each sung in On Call for two years.

Tierney also plays in the jazz, concert, and pep band at PAHS. Ingalsbe belonged to the band until his sophomore year.

Tierney and Ingalsbe said that they like to sing and that belonging to an all-state choir offers a good opportunity to do that. "It's fun. It's enjoyable," said Tierney. "Music is an important part of my life, and singing is part of that."

This year, Ingalsbe participated in the all-state choir, and senior Trisha Chevalier played in the all-state band. Other PAHS students to earn all-state honors in the past six years are Andy Jones (choir) in 2001; Becca Gardner (choir) and Scott Ingalsbe (choir) in 2000; Kelly Loesch (band) in 1999; and Mackenzie Merrill (orchestra) in 1998.
---
Contact the author at editor@paynesvillepress.com • Return to News Menu
Home | Marketplace | Community
---