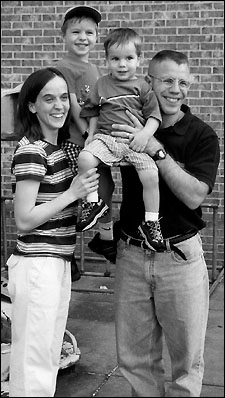 Before he went overseas, Brad Fenske gave his four-year-old son Daniel a camoflauged pillow, just like the one he will use in the desert.

Since Daniel doesn't remember his dad going to Kosovo for six months on a peacekeeping mission because he was just one, this will be their first long separation, at least as far as he is aware.

Angela and Brad Fenske spent some precious family time with their sons Daniel, 4, and Nathan, 2, before Brad shipped out for the Middle East just before Easter.

Brad Fenske, a Paynesville native who is now a captain in the United States Army, has two boys with his wife, Angela. But since they are both too young to understand where their father is, they believe their dad is camping in the desert, said Angela, who is also a Paynesville native.

Brad is the commanding officer of a company of the 203rd Military Intelligence Batallion. His unit deployed for the Middle East just before Easter.

He will lead 25-30 troops through the desert to gather information on the status of Iraqi weapons and equipment. The unit may examine abandoned tanks and weaponry, interview Iraqi soldiers and civilians, and try to gather as much information as possible.

Because much of what Brad does is classified, Angela doesn't know many details about her husband's mission, but she knows his unit is moving north toward Iraq now and may even be in Iraq already.

She has no idea how long Brad will be gone, but she can keep in touch with him by e-mail while he is overseas. She just received an e-mail from him on Sunday.

Brad Fenske, the son of Dallas and Patsy Fenske, grew up on a farm in Roseville Township. He was a state wrestling champion in high school and after graduating in 1992, he attended West Point, where he wrestled collegiately on the Division I level before graduating and becoming an army officer.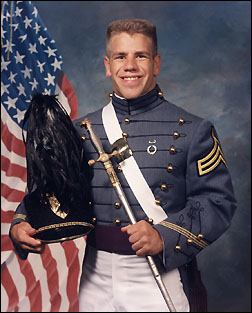 His father believes the same self-discipline and determination that made Brad an excellent wrestler in school helped him excel at West Point and has made him a respected officer. His parents are both proud of their son, but also worry about him. Brad told his mother before he left that he was doing his job, and she tries to keep that in mind.
Army Captain Brad Fenske
Angela, the daughter of Gary and Fern Roberg, is also a PAHS graduate. She prays daily for Brad's safety. She is proud to be a soldier's wife and is grateful for the support she gets from God, her biological family, and her military family.
For the time being, Angela, four-year-old Daniel, and two-year-old Nathan are staying with her parents at their farm in Union Grove Township, but Angela and the boys will return to Maryland, where Brad is stationed at the Aberdeen Proving Grounds in the fall.
Angela thought it would be nice to be home with her family for a while, but she also misses her friends and her support system at the base. Since other military spouses face similar situations, her friends at the base already feel like family.
Brad's unit has been on alert since they moved to Maryland last November. Angela was afraid he would be deployed before she was able to get settled and make friends, but, like most military spouses, Angela made close friends in a hurry, she said.
Though Brad served in Kosovo for six months, Angela thinks this deployment will be more difficult for her since his Kosovo deployment had an end date. She knew then that he would probably be home within six months.
"God is faithful, and he will not give us more than we can handle," said Angela, about not knowing how long Brad will be gone. Every once in a while, however, Angela reminds God in her prayers that six months is probably her limit, she said.
When Angela feels an urge to worry about her husband, she reminds herself of this quote, which she read with her Bible study group, comprised by military spouses: "Worry is like a rocking chair. It keeps you busy, but it gets you nowhere."
---
Contact the author at editor@paynesvillepress.com • Return to News Menu
Home | Marketplace | Community
---