Trail Guards start clean-up at park
This article submitted by Michael Jacobson on 4/28/99.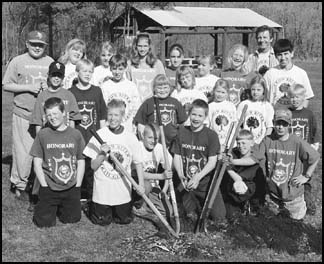 The Crow River Trail Guards began work for the season Saturday at the Crow River Nature Park in Paynesville. To celebrate Earth Day, they planted 20 maple trees in the park.

Working Saturday morning were: (kneeling) Zack Bahner, Matt Mergen, Justin Schlangen, James Jansen, Joey Sheridan, and Jason Albright; (middle) Jeff Albright, Ryan Gale, Travis Erickson, Crystal Rudy, Cassi Goltz, Susan Albrecht, Kelsey Noonan, and Keegan Rudy; (back) Dustin Rudy, Tammy Nelson, Beth Schlangen, Jenny Berg, Jessi Stanger, Sam Stanger, Kristi Gale, and Sean Kruger. At the very back is their organizer, Tom Koshiol.
---