Wetlands will be constructed for waste water treatment
This article submitted by Michael Jacobson on 4/28/99.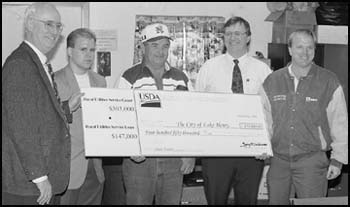 Lake Henry and Spring Hill got more than recognition from the United States Department of Agriculture last Friday. As part of its Earth Day celebration, the USDA's Rural Development office distributed ceremonial checks to each community.

Lake Henry and Spring Hill will be using the grant and loan money to build waste water treatment systems that will utilize wetlands in the process.

When Spring Hill received its funds last year, it became the first USDA financed waste treatment project in Minnesota to use wetlands. Spring Hill received a $382,000 grant and a $47,000 loan from the USDA and a $166,000 grant from the Minnesota Pollution Control Agency (MPCA).

Lake Henry received a $303,000 grant from the USDA and a $147,000 loan.

Ceremonial checks were presented to the communities on Friday at the Lake Henry city hall and at the Spring Hill Elementary School.

The Lake Henry City Council approved their wetland waste treatment project Monday night at their regular meeting.

The city of Lake Henry has had a waste treatment system since 1952, when an Imhoff tank, a trickling filter, and a final clarifier were installed, along with hook-ups to houses. "I'm only one of eight people left in town that was here when it was originally put in," said John Horn, a Lake Henry City Council member.

By 1979, the city was considering building a lagoon system that would have cost at least three-quarter of a million dollars and would have needed yearly maintenance. The city was eligible for a 94 percent grant, but the project died when the presidency changed and the federal grant money evaporated.

Currently, the city of Lake Henry is operating on a permit that expired in 1984.

"I've been mayor for seven or eight years, and it's been an issue since then," said Dan Liebl, Lake Henry's mayor.

When they addressed the issue again in recent years, the two best options were either a constructed wetlands or a mechanical treatment plant. Less maintenance and longer system life were deciding factors for the wetlands.

Ron Mergen, public works director for the city of Paynesville, has been helping advise the city of Lake Henry on the waste treatment project. "Ten years ago," he said of treatment projects that use wetlands, "you didn't see hardly any in the state." Now he estimated there are 70 statewide. "They are definitely growing in popularity."

Lake Henry will be adding a second Imhoff tank, which works like a septic tank, with bacterial action breaking down some nutrients and solids sinking to form a sludge layer at the bottom of the tank.

Due to gravity, the water will flow to the wetland, which will be constructed on the three-acre site about a quarter mile north of town. Currently, the trickling filter is located there.

The effluent will be flowing beneath the ground surface of the wetland, in what is called a subsurface-flow wetland. The wetland is sealed with a poly liner to prevent any leakage of waste water into the ground water. Above that liner will be nearly three feet of pea rock. On top of that will be six inches of sand.

Swamp plants in the sand like bull rushes and cattails will have their roots in the pea rock. "They will take up the nutrients," said Mergen.

"Using plants to purify water has tremendous intuitive appeal to the general public," wrote Scott D. Wallace in an article in the July 1998 issue of Civil Engineering, "and the simplicity and reliability of wetlands make them an attractive choice for many small communities. Acting as the 'kidneys' of our planet, wetlands exchange dirty contaminants for clean, pure water and provide wildlife habitat in the process."

In his article, Wallace listed these benefits of wetland systems: they operate on solar energy; they increase their treatment capacity over time; they create wildlife habitat; they create oxygen and consume carbon dioxide, to improve air quality and fight global warming; they require little maintenance.

The sludge from the Imhoff tanks will be put in a concrete basin that will be lined with reed beds. In seven to ten years, it will become a Class A sludge, which Mergen said is comparable to compost. Then it can be spread almost anywhere.

"This is by far the cheapest and most common sense solution there is," said Mergen.

Spring Hill will have a similar wetland, but they needed to build a collection system, which requires laying pipes to the houses in town. They also had additional costs because they needed a percolation pump.

At the ceremony Friday, Gary DeCramer, state director of the USDA's Rural Development office, commended the communities for making a local commitment to enable the project to proceed.

Representative Doug Stang said, "It's great to see small cities get this kind of help. Otherwise, it's hard for small cities to do this."

"There's no other way we could afford to do this," said Liebl.

As a cost comparison, the USDA said a waste water treatment for Bingham Lake in Cottonwood County will cost more than $1 million. That city, with a population of about 70, will not be building its own facility, but will be connecting its main to an existing plant in Windom.
---