Meagher, Steinhofer earn Girl Scouts Silver Award
This article submitted by Linda Stelling on 4/28/99.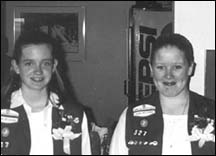 Two Paynesville girls were given their Silver Awards at the Girl Scout Council Recognition Celebration April 17.

Mindy Meagher (left), daughter of Pat and Lorie Meagher and Heidi Steinhofer (right), daughter of Chuck and Karelle Steinhofer, for troop 527 were given the second highest honor in Girl Scouts, the Silver Award.

To earn this award, the girls earned three interest project patches: dreams to reality, leadership pin, Girl Scout challenge and did a main project of at least 25 hours.

The two girls chose to organize the Brownie Lock-in for the first through third grader Brownies from Service Unit #26. The theme they used was health and fitness. Six different stations were used to entertain the girls that night.

They ranged from a beautician doing each girl's hair, fingernails getting painted, games, a nurse talking about drugs and smoking, and exercise, with the help of volunteers.
---