Street construction began last week in Paynesville and will continue for the the next several weeks.

The first step of the 2004 street improvement project - removing old tar and replacing sanitary sewer, water, and storm sewer lines on Railroad Street between Washburne Avenue and Koronis Avenue - began last week, including the temporary closing of the Washburne Avenue and Railroad Street intersection.

This downtown intersection should open again by the end of this week. In the meantime, drivers can use a detour of Highway 23 and Minnie Street to the Industrial Park and other businesses north of the railroad tracks.

Once utility work in the intersection is complete, removing the old street and utility work should begin on the remainder of Railroad Street and on the north end of Lake Avenue, according to public works director Ron Mergen.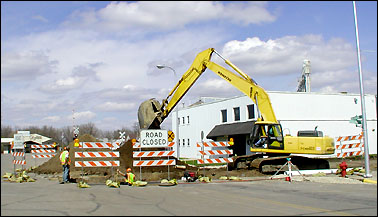 The old asphalt will be removed and utility work on this section should be done within two to three weeks, said Mergen. While utility work is underway, no through traffic will be allowed on these streets, said Mergen. (The street improvement project this year also includes building a stormwater retention pond by the railroad tracks at the north end of Lake Avenue. This portion of the project is contracted and should take about a week of work, but there is no schedule as to when it will be done.)
Work began on the street project last week, including a detour at the intersection of Washburne Avenue and Railroad Street. That detour could last until the end of the week, while the whole project should last six weeks.
The next roads slated for tar removal and utility replacement are Belmont Drive, the south section of Belmont Street, and a portion of Hudson Street. Work could begin on these streets as early as next week. During this phase of the project, no intersections will be closed, but no through traffic will be allowed. Drivers will be encouraged to find alternate routes, said Mergen.
With the old streets, curbs and gutters removed, and with new utility lines in place, each section should be ready for new asphalt, new curbs, and new gutters when asphalt plants open, usually in mid-May, said Mergen.
In addition, the Industrial Loop, part of Minnie Street, Ampe Drive, and Service Road will get an overlayment of asphalt as part of the street improvement project. This overlayment will occur as soon as asphalt is available.
A first layer of asphalt should be in place throughout the street improvement project within six weeks, said Mergen. The last layer of asphalt will be applied to the streets next spring, after any winter settling, shifting, or cracking has occurred.
Lake Avenue, which was rebuilt by Stearns County last year, will also receive its last layer of asphalt this year. This should happen next week, according to county officials, since spring road restrictions have been lifted.
---
Contact the author at editor@paynesvillepress.com • Return to News Menu
Home | Marketplace | Community
---