Fifteen thespians from Paynesville Area Middle School staged a trio of one-act plays last weekend in the school auditorium.

The actors and actresses performed three mystery spoofs: "Oliver Twisted," "And Then There Was One," and "And Then There Was One, Too." All three spoof mysteries by Agatha Christie, who wrote "And Then There Were None," and "Oliver Twisted" also spoofs the Charles Dickens' novel "Oliver Twist."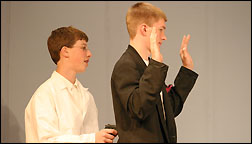 "Oliver Twisted" followed a wise-cracking L.A. private investigator named Chuck Dickens (played by Ralph Daby) who is looking for Oliver Twist (played by Harrison Fangmeier), with a shady cast of characters trying to collect a surprise inheritance belonging to Oliver Twist.
David Ruprecht (as Dr. Albert Prince) keeps suspect Jon Person (as singer Presley York) under guard during "And Then There Was One."
"And Then There Was One" and "And Then There Was One, Too" spoof Agatha Christie murder mysteries. In the first play, the ten characters, stranded on a resort island, fake their deaths after an accident leads them to believe that there is a murderer in their midst. In the end, instead of identifying a nonexistent killer, all ten join forces to write a murder mystery, which is "And Then There Was One, Too."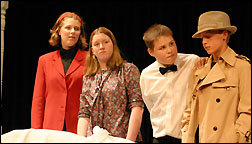 In this mystery, the same cast of characters is invited to Cable Car Cliff, where they were stranded again. Again, a killer is apparently on the loose, but it really is a staged play-within-a-play, with the cast trying to write the ultimate murder mystery for their host (G. Rief).
At right: Kelsey Reinke, Brianna Fischbach, Ralph Daby, and Hayden Spaeth talk about their situation during "And Then There Was One,Too." Below: Ralph Daby (as Chuck Dickens) accepts a mysterious box from Michael Vaske (as Art Dodger) in "Oliver Twisted."
Cast of Characters
Oliver Twisted
Chuck Dickens: Ralph Daby
Nancy: Taylor Haag
Mrs. Agatha Low: Karla Leitzman
Art Dodger: Michael Vaske
Mrs. Bumble: Brianna Fischbach
Fay Gunn: Jayna Flanders
Bill Sikes: Hayden Spaeth
Monk: Jon Person
Oliver: Harrison Fangmeier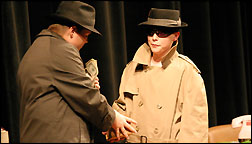 And Then There Was One
Mimms The Maid: Karla Leitzman
Clayhorn The Butler: Ralph Daby
Albert Prince: David Ruprecht
Emily Plain: Brianna Fischbach
Inspector Miles: Hayden Spaeth
Delores Biggs: Kelsey Reinke
Presley York: Jon Person
Heather Starlett: Jayna Flanders
Matthew Charisma: Ezra Thompson
Margaret LaRue: Taylor Haag
And Then There Was One, Too
Jorge a.k.a. Clayhorn: Ralph Daby
Helga a.k.a. Mimms: Karla Leitzman
Margaret LaRue: Rachelle Hasbrook
Dr. Prince: Dillon Herem
Presley York: Jon Person
Inspector Miles: Hayden Spaeth
Delores Biggs: Kelsey Reinke
Matthew Charisma: Ezra Thompson
Emily Plain: Brianna Fischbach
Heather Starlett: Jayna Flanders
Director: Jane Leitzman
Lights and Sound: Shawn Reinke
---
Contact the author at editor@paynesvillepress.com • Return to News Menu
Home | Marketplace | Community
---