Gladys Deadrick (Class of 1925), Joe Pung (Class of 1961), and Dr. Jim Hess (Class of 1971) were honored with Distinguished Alumni Awards from the "Keep the Quality" Education Foundation on Friday.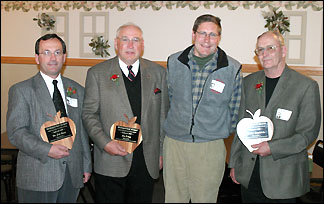 Pung and Hess spoke to classes of students at Paynesville Area High School and Paynesville Area Middle School on Friday morning, toured the Paynesville Area Schools in the afternoon, and received their awards at a banquet on Friday night. Deadrick, who died in 1991, was represented by her stepson Keith Deadrick at the banquet.
Receiving Distinguished Alumni Awards from the "Keep The Quality" Education Foundation on Friday were Dr. Jim Hess (Class of 1971), Joe Pung (Class of 1961), foundation president Paul Bugbee, and the late Gladys Deadrick (Class of 1925), represented by stepson Keith Deadrick.
The Distinguished Alumni Award intends to recognize the accomplishments of Paynesville graduates. Qualifications for the award are loose; it is meant to honor PHS graduates "who have distinguished themselves in their careers, in public service, or through other significant contributions to society."
Last year, the "Keep the Quality" Education Foundation bestowed its inaugural Distinguished Alumni Awards on Ken Olson (Class of 1963), Ron Olsen (Class of 1966), and Bruce Stang (Class of 1977).
The "Keep the Quality" board selected this year's trio from dozens of successful PHS alumni.
Gladys Deadrick graduated from Paynesville High School in 1925. She worked at several restaurants, including in Minneapolis and Chicago, owned and operated a steakhouse in Paynesville, and operated a resort on Rice Lake.
In retirement, Gladys was an active advocate for seniors and established a home-delivered meal program for local seniors. This program - organized by Deadrick until her death in 1991 - was the only one in the state to be supported solely by local donations.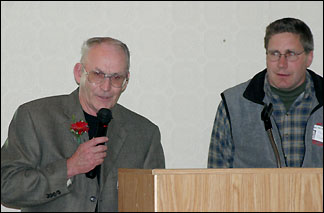 Deadrick was always looking to do things to benefit others, said Joe Bertram Sr., a former state senator who worked closely with her. She was lobbying for prescription drug relief for seniors years before the issue gained national prominence, according to Bertram.
"For those of us who knew Gladys ...she was a very powerful little woman," said Bertram.
Even her love of going to garage sale and buying more and more stuff, Bertram attributed to her generous nature: she saw beauty in things where others didn't, he said.
Stepson Keith Deadrick accepts the award for Gladys Deadrick from foundation president Paul Bugbee.
When her niece Diane King thinks of Aunt Gladys, "I'm always reminded of her license plate, 'Who Cares.' I thought it meant to her, 'If I can't help, who will?' She tried to make a difference by lending a hand or a voice where it was needed," said King, who lives in Florida. "As a tribute to her memory, may we all be inspired and motivated to give more of ourselves to our communities."
Deadrick's stepson, Keith Deadrick of Paynesville, accepted her award, expressed gratitude on her behalf, and reiterated that she really cared about people.
Joe Pung grew up in St. Martin and starred as an athlete at PHS, where he graduated in 1961. He played football at the University of Minnesota under Murry Warmath, serving as captain and being named team MVP in 1964. He played with Gophers legends like Carl Eller and Sandy Stephens and against Hall of Famers like Dick Butkus and Roger Staubach.
Guys like Butkus never outfought Pung, said Jim Loomis, his former high school coach. Pung exemplifies determination, toughness, and respect, said Loomis.
The Gophers' coaches heard about Pung through a kind referral by the Willmar High School coaches, explained Loomis, because the Gophers didn't scout small schools like Paynesville back then. Loomis also told how Pung, as captain, invited a dying Paynesville man, a great Gophers fan, to the football lockerroom, providing him with "the happiest day of his life."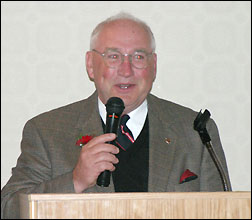 Pung - who credits his athletic scholarship with helping him become the first college graduate in his family - started teaching at the University of Minnesota, as he earned a master's degree in education and began teaching business classes at the University while also serving as an assistant football coach. He taught for 32 years in the Osseo School District, establishing a school-within-a-school program for troubled students.
Joe Pung said he was grateful for attending high school in a small town like Paynesville that provided ample opportunities for kids.
At the banquet, Pung broke into tears at several points while expressing his gratitude during his acceptance speech. He said he was glad to have attended a small high school like Paynesville where students have all kinds of opportunities, instead of a larger school like Osseo where they have to try out and "wait in line." The recent shooting at Red Lake shows "what happens when kids are not affirmed," added Pung.
Pung, who lives near Braham with his wife Vicki, with whom he has three grown sons, also worked over 30 years for the Chicago County Sheriff's Department as a summer water patrol deputy.
Jim Hess graduated from PHS in 1971. After attending the University of Minnesota, he went to optometry school in Chicago, where he was introduced to foreign mission trips. He has operated a private optometry practice in Crystal, Minn., for 25 years, during which time he has taken or led 35 mission trips to the Third World. Thousands of glasses, used on these mission trips, are sorted and washed by volunteers at the Paynesville Area Center.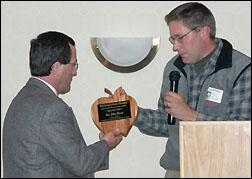 Hess has served as president of Volunteer Optometric Service to Humanity-Minnesota (VOSH) since 1983 and has served on the board of VOSH-International for 11 years.
Former superintendent Don Torbenson said that he has known Hess for 40 years, since their youngest son came home with a new friend. He has taken three overseas mission trips with Hess and was leaving this week with Hess and 50 other volunteers for Transylvania in Romania.
Dr. Jim Hess (left) receives his Distinguished Alumni Award on Friday night from school foundation president Paul Bugbee.
You make a living by what you get, said Torbenson in describing Hess' volunteer work, but you make a lifetime by what you give.
Hess - who was accompanied by his wife, Margie; his mother; his two stepsons; his four siblings; and a number of other relatives - also said that he was grateful to grow up in Paynesville and to have all the opportunities that a small town afforded. He has received lots of awards - including an Eleven Who Care Award from KARE-TV - but this was precious, he said, because it was from his hometown.
(Editor's Note: Jacobson is a board member of the "Keep the Quality" Education Foundation and helped organize the Distinguished Alumni Award for the foundation.)
---
Contact the author at editor@paynesvillepress.com • Return to News Menu
Home | Marketplace | Community
---