Senior Caitlin Lien became the fourth PAHS student to place at state speech on Saturday, when she finished fourth in Class A in informative speaking at Bloomington Jefferson High School.

Lien - in her third year of competing at state speech, a PAHS record - joins three other PAHS students who have placed at state speech: Andy Schuch, first in prose in 1983; Doug Jensen, fifth in prose in 1983; and Hannah Felling, seventh in discussion in 2002.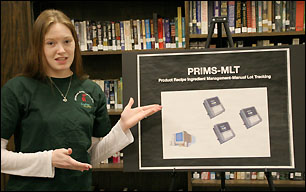 Lien, the daughter of Lonnie and Ray Lien of Paynesville, said her expectations at state were low, hoping to make the finals but mostly just wanting to have fun. "I think I did my best all day," she said. "I wasn't expecting anything, so I got more than I expected."
"I just wanted to have fun," added Lien, who set a new school mark by competing at state for a third time. That familiarity helped her, she said, as she was less scared and less intimidated this year.
Senior Caitlin Lien became the fourth PAHS studen to place at the state speech meet on Saturday, finishing fourth in Class A in informative speaking in her third trip to state speech, the most in school history.
Lien's topic this year in informative speaking, where students make professional presentations about a subject they have researched, is bioterrorism. She traces its history, (from medieval armies catapulting bodies infected with the plague in the 14th Century and from settlers giving smallpox-infested blankets to American Indians to Iraqi scud missiles armed with biological weapons and the anthrax scare in 2001), and then she examines how bioterrorism could affect the United States, how it could be prevented, and what preparations are being made in case it happens. All this, she explains in her eight-minute speech.
At state, with 24 competitors in her event, Lien competed in three preliminary rounds on Saturday morning, taking first in two rounds and fifth in the other round. She was tied for third in the preliminary rounds and qualified for the final round with eight competitors.
In the finals, each competitor gave their informative speech once again with three judges rating each participant. Lien was rated first by one judge, fourth by another, and eighth by the third, a seemingly random assortment of ratings, said Lien. Speech judging is subjective, she noted.
These final-round ratings were tabulated with their three ratings from the preliminary rounds for the final state placings, with Lien taking fourth, one point from third.
Her rival from Sauk Centre, Anna Craig, whom Lien beat to capture the subsection title last month but who defeated Lien this month for the section crown, took second at state. (The third state competitor in informative speech from their section missed the finals by one point.)
In the final round, Lien was the only competitor - other than the state champion in informative speaking, David Tomporowski of Perham - to be rated first by a judge.
Lien thanked her parents (her dad Ray suggested her topic this year, and her mom Lonnie helped to proofread her speech); her stand for four years, Boone, for always being at her side and never collapsing; and her coach Joan Nevitt.
Nevitt said Lien always approached speech as a true professional. "Working hard for four years paid off," she added.
Lien plans to attend Concordia College in Moorhead next year, studying either theater or music education and participating in forensics, which is similar to speech.
Lien also participates in drama at PAHS, sings in the choir and Mixed Pops Choir, plays in the band, and is president of FFA. Away from school she participates in 4-H, sings with On Call, and will sing in the All State Lutheran Choir for the second time this summer.
---
Contact the author at editor@paynesvillepress.com • Return to News Menu
Home | Marketplace | Community
---