Thompsons' work at Tuck's spans 75 years
This article submitted by Erin Aagesen on 4/26/00.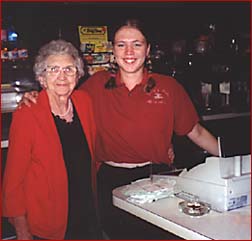 Allison Thompson (at right) and her great-grandmother, Mabel, (at left) have more in common than a last name. Both have spent portions of their teen years as waitresses at Tuck's Cafe. Mabel, 94, worked at the restaurant in 1924 and 1925, while Allison, 18, has been working there for nearly three years, beginning in 1997.

"I never thought at the time that I would see a great-granddaughter working there," said Mabel, of her two years on the job. " I feel kind of good about it," she added. "I thought it was real nice (when Allison got the job)."

While some things, such as daily specials and homemade pie, have been staples of Tuck's throughout the years, many things have changed between the time Mabel worked for the original Tucker brothers, who founded the restaurant in 1917, and the present day, when Allison puts in her part-time hours.

Mabel began working at Tuck's at the age of 17. She moved from a previous waitressing job in South Haven to Paynesville when she heard about the opening. She was paid eight dollars a week, but did not receive tips from her customers. She also was given free room and board, living with the other waitress who worked at the cafe.

The two girls, along with the two Tucker brothers and the cook worked seven days a week. Mabel explained that there were two shifts, one beginning at 8 a.m. and running through the lunch hour, and another beginning at 11 a.m. and ending after dinner. She and the other waitress would alternate shifts, getting every other Sunday off.

At the time, according to Mabel, the cafe was never as busy as it is now, but there weren't as many conveniences, so it took longer to do the same job.

As a waitress, she never wrote down her orders. Although there was a cook for short orders, the waitresses had to dish up their own meals in the kitchen. Mabel said there were usually two types of meat served each day, along with a few other choices, so it wasn't hard to keep track of the orders and the prices, which, she explained, were much cheaper than they are now.

The cash register had a crank. A big, flat, wooden box filled with ice was used to keep food cool. The lid was so heavy that a rope and pulley system was used to get the food out of the box.

During Mabel's time, the interior of the restaurant was different as well. All the customers sat at tables, as opposed to the present-day booths. A big glass showcase displayed items such as candy bars and cigars, and ice cream was sold at a soda fountain in the front of the store.

Today, Mabel, who has lived in the Paynesville area since her time as a waitress, still likes to go to Tuck's and have Allison wait on her.

And Allison enjoys it, too.

"Grandma always gets chicken," Allison said.
---