Idaho teacher gets national recognition
This article submitted by Linda Stelling on 4/26/00.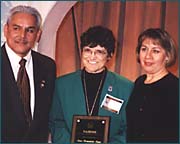 The importance of Sister Bernadette Stang's work in Caldwell, Idaho, within the school district is reflected in the smiles of the kindergartners and adults who look to her for tutoring and encouragement in the Farmway Village Community Center.

Sister Bernadette, 64, received national recognition when she accepted the National Migrant Education Award on March 29 in San Diego. Stang is the first Idaho teacher to receive the honor from the National Association of State Migrant Directors.

Sister Bernadette Stang (center) receives the Outstanding Teacher of the Year Award with Francisco Garcia (left), director of Migrant Education, U.S. Department of Education, and Irene Chabolla (right) of the Idaho State Director of Migrant Education.

Sister Bernadette teaches English to adults, many of whom are parents of the younger students she tutors as part of the Caldwell School District's program at Farmway Village, a housing complex for about 5,000 farm workers whose primary language is Spanish.

Idaho State Migrant Education Director Irene Chavolla noted Sister Bernadette's help goes beyond the classrooms. She provides parent's transportation back and forth to the schools, gives fruit baskets, and assists battered women.

Stang said she sees the relationships she helps develop between teachers, students, and parents as key to the success of the five-year-old program.
---