Car safety seat program aims at protecting kids
This article submitted by Michael Jacobson on 4/26/00.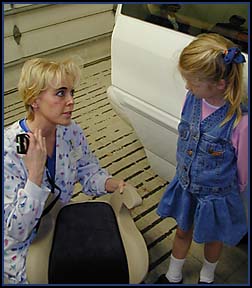 The crusade for child safety seats started through personal experience. A couple years ago, Brenda Stang (at left showing Jessica Bremseth her new booster seat) took her nine-month-old son in his new safety seat in their new van to a checking clinic in St. Cloud, and learned her son's seat was not installed properly.

"I was so shocked and felt inadequate as a parent," she explained. Once she had her son's seat installed properly, she wanted to help others learn the correct procedures.

In March 1998, Brenda, and her husband, Steve, along with Joe Schmidt of the Paynesville Police Department, took a two-day course offered by the state to learn about child safety seats.

Both Brenda and Steve are members of the Paynesville Area Ambulance Corps, and "their interest encouraged three more members to get trained last year: Mike Noonan, Sonya Schmidt, and Margie Schutz.

A babysitting stint at the Stang house got Kevin Odell interested in gaining certification through the safety class. After taking the Stangs' kids on an errand in his car, Brenda questioned him how he installed the safety seats. Odell had made a common mistake by just strapping the seat in like a person. "In my mind, not having any education, that was safe," he recalled.

He credits the incident with showing him how much he had to learn about car safety. He completed the safety course last fall.

Safety inspections
The ambulance corps has shared their safety knowledge through demonstration and training sessions with parents. Corps members have offered their expertise at the Early Childhood Family Education children's fair in the fall for two straight years.

They also do inspections and demonstrations every other Monday evening by appointment at the ambulance garage. A year ago, they started providing the training to the parents of newborn babies upon discharge from the Paynesville Area Hospital.

In all, the corps has inspected around 150 child safety seats in the past two years.

"We're very flexible," said Brenda Stang. "We'll do what we can to make it fit into their schedule because we want people to come and get educated."

Stang and Noonan work at the hospital and can be contacted there at 320-243-3767 for appointments. They handle a lot of the inspections during business hours because of their proximity.

The inspections take about a half hour per car seat. Ambulance crew members start by making sure the safety seat is up to date and then determine where in the vehicle the seat should be placed. They install the seat first and then show the parents how to do it. The last installation is made by the parent.

The program is made possible by the donation of staff time by the Paynesville Area Health Care System. Monetary donations have been made by three local car dealers and parents who have used the program.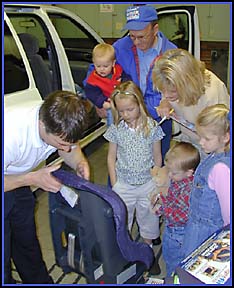 A recent demonstration
Pam (Spanier) Bremseth, a native of Paynesville who now lives in Plymouth, brought her four kids and their minivan to the hospital last Wednesday for an inspection. "We've been on the road a lot, so I felt it was important to have the right things," she explained.
Pam Bremseth watches as Mike Noonan checks a car seat. Bremseth had the ambulance corps inspect the car seats for her four children: Jotham with grandfather Mel Spanier; Lyssa; Issac; and Jessica.
Bremseth said her mother, Etheline, who works for PAHCS, had urged her to use the service through the hospital.
Although the law only requires safety seats for children under four years of age or under 40 pounds, Bremseth had heard about the recommendation that anyone under 80 pounds should still have a safety seat. The Bremseth children are Lyssa, 6; Jessica, 4; Isaac, 3; and Jotham, 1.
Both Lyssa and Jessica weigh about 46 pounds, and their mother suspected that they needed more than an adult seat belt. The girls got boosters which are designed so they can use the seat belt in the vehicle safely.
Stang, who took an additional class, along with Schmidt, to become a senior inspector, said seat belts are designed for adult passengers and not kids. To determine if a child is big enough, parents can check a five-point test.
Bremseth also needed two new car seats. One of hers was 10 years old and the age of the other could not be determined. Stang said safety seats should not be used after six years of age because of the possibility of structural deterioration. A seat that was involved in an accident should also be avoided because of the potential for unseen damage.
For safety reasons, borrowing cars seats or buying them from garage sales is risky. The inspectors can't judge the integrity of the seat without knowing its history. Also, if you don't register a car seat, you won't be informed by the manufacturer about recalls.
The ambulance corps keeps a current list of recalls, and they make everyone register a new seat before leaving. Their goal is for every child to leave the inspection in a safe seat.
After her inspection was completed, Bremseth was quite impressed by the program and the people. She appreciated what she had learned about car seat safety and the convenience of the program. Car seat safety, she said, is frequently a good intention that never gets done.
Having done it, she said, "There's an incredible peace of mind in knowing they're in the right seats and safe."
Common problems
Bremseth's appreciation is fairly common. Noonan and Stang said most people are happy to learn safe procedures and surprised by what they didn't know. Stang cited studies that showed only one in five safety seats were installed correctly. She and Noonan said they haven't conducted an inspection where the seat had been installed correctly.
The most common problem is tightness. Most seats are treated just like people and strapped in loosely. This can allow for twice the whiplash as first the seat moves and then the child moves inside the seat.
The correct method is to use the locking clip to take all the slack out of the seat belt when latching it to a seat. The inspectors fasten the safety seat tightly enough to remove the give in a padded seat.
"It takes two people to effectively put in a car seat," said Stang, "one to buckle and one to tighten." That's why she recommends that families that transfer kids in more than one vehicle buy separate car safety seats for each. It's hard to do a thorough job installing the seats by yourself or in the morning rush.
Another common problem is the straps holding the child being too loose. The ambulance crew suggests having one finger fit snugly between your child and the strap.
Some people don't use all the parts for their seat. Noonan said most people don't take the time to read the safety seat manuals thoroughly, which can cause them to do things improperly.
Stang emphasized that infants need to face to the rear until they are one year old and 20 pounds. When a child hits 20 pounds, they need a larger seat, and frequently they are put in a forward facing seat. Stang said the head and neck muscles of infants cannot withstand a forward-facing crash until they are a year old. If they reach 20 pounds before then, they need a converter seat that can face either direction.
A recent accident
The ambulance corps recently did an inspection and training with Heidi Sturges, the Rice Lake woman who died last week in a car accident.
The mother and an eight-year-old girl were ejected from the car during the roll, but eight-month-old Cory Sturges survived with minor injuries.
Meeker County Chief Deputy Sheriff Jeff Norlin said the base of the safety seat was sufficiently tight, when inspected after the accident. He said small children face greater risks than adults when ejected because their small size allows them to be thrown farther. He thought the safety seat prevented more serious injuries to the boy.
Robert Sturges, Heidi's husband, said the top of Cory's seat came loose, but attributed that to the force of the impact. He said he found his son face down after the accident. Cory was still in the car seat, but it had become detached from the base, according to Sturges.
Sturges said he and his children still need to see a chiropractor for their injuries.
They plan to send the seat in for testing.
---