Paynesville man receives District 14B DFL endorsement
This article submitted by Linda Stelling on 4/26/00.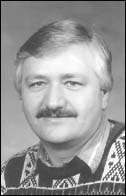 Steve McCorquodale received the DFL District 14B delegates endorsement on the first ballot at the recent endorsing convention held in Cold Spring.

McCorquodale, Paynesville, is running for the seat presently held by Doug Stang ( R-Cold Spring).

According to McCorquodale, he decided to run for office because the district needs and deserves a strong and dedicated representative who is willing to get out and learn what the problems are in the district.

McCorquodale cited agriculture policy, education, and the environmental issues as other reasons he decided to run.

"Agriculture is an extremely large problem," McCorquodale said. "Stearns County is among a few counties in the state that still has a lot of small farmers. There are 2,700 feedlots in the county. A lot of large farms are consuming the smaller farmer," he said.

McCorquodale would like to see something put in place that would give young farmers the confidence to farm with their parents or to go out on their own without the fear of not being able to make it financially.

The father of three daughters, McCorquodale said there is nothing more important to our future than the education of our children. "The cost of higher education is going up and we need more creative ways of helping students afford school," he said.

He added that something needs to be done with the Profile of Learning as students are getting farther and farther behind. We can't blame the students for the standards imposed by the Legislature, McCorquodale said.

"I plan on holding no less than 12 meetings throughout the district once elected," McCorquodale said. "I want to be known as a person for the district. I'm not looking to run for higher office.

McCorquodale has worked as a custom poultry manure applicator and an electronic technician. He served on the state committee for five years working on the feedlot rules. He is a member of the Minnesota Solid Applicators Association and the Paynesville Lions Club.

Endorsements
Also endorsed at the Stearns County DFL convention was Mike Sharp, Clearwater. He is running for the Senate seat held by Michelle Fischbach (R-Paynesville).

Rep. Robert Ness (R-Dassel) and Senator Steve Dill (R-Dassel) were unanimously endorsed for re-election in Meeker County in Districts 20A and 20. Ness is running for a fifth term. He chairs the agriculture and rural development finance committee and is vice-chair of the K-12 Education Finance Committee. He also serves on the agriculture and education policy committees.

Senator Michelle Fischbach (R-Paynesville) and Rep. Doug Stang (R-Cold Spring) were unanimously endorsed for re-election at the April 8 Republican endorsing convention.
---