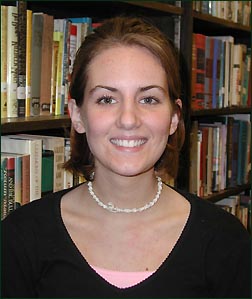 Junior Hannah Felling earned a seventh place medal in Class A at the state speech meet in Eagan on Saturday, becoming the first Paynesville Area High School student to earn a state medal since 1983.

She becomes the first state speech medal winner from Paynesville since Andy Schuch won the serious interpretation of prose in 1983. Doug Jensen took fifth in the same event that year. (Paynesville sent four people to state speech that year, with Andy Anderson and Sharon Thomes advancing as alternates.)

Felling, the daughter of Richard and Brigid Felling, reached the finals in discussion, where students discussed aspects of juvenile justice. In the three preliminary rounds on Saturday, students discussed prevention, while in the finals they talked about the future of juvenile justice and theorized about upcoming topics in the field.

Discussion requires participants to research the issue ahead of time and then engage in discussion with a group of students. The idea is to develop a consensus through the interaction, with students being judged for their leadership, participation, and citing of sources.

"The state meet is very intense, competitive, and difficult," said coach Joan Nevitt. "It was an honor to have Hannah do so well."

Felling was pleased to reach the finals but somewhat disappointed with her final placing. "It was my goal to get in the finals, so I was happy with that," she said, "but I thought I'd be in the top five."

"The guy who won (Tyler Sunderman, a junior from Le Sueur-Henderson/Cleveland) deserved it," she added. "He was really good."

The final standings were determined by totalling each finalist's placement in each of the four rounds (three preliminary and the final). Felling thought she could have done better in a couple of the rounds and should have scored better in at least one of the rounds.

Last year, Felling placed third at sections and was an alternate to the state meet. This year, she won at sections and competed at state, along with teammate Melissa Andrie. (Andrie, a sophomore, competed in original oratory but did not make the finals.)

"I thought it was a lot better competing," said Felling. "It was grueling like I expected."

She appreciated the support of her speech teammates, who showed great team camaraderie despite the individual nature of speech competitions. The other members of the speech team attended the meet, made signs, and cheered on Felling and Andrie.

"It was fun," Felling said. "The team was so wonderful."

Depending on the topic, Felling may participate in discussion again next year. She is considering studying law in college, where her speech experience should prove valuable.

"I'm so proud of the whole team. It takes a lot of courage to do what they do. It takes a lot of dedication," said Nevitt.

The state meet, added Nevitt, was a good way to end the season.

The Class A state meet featured representatives from 98 teams, out of 232 that competed in Class A speech statewide. Representatives from 53 teams earned medals at state.
---
Contact the author at paypress@lkdllink.net • Return to News Menu
Home | Marketplace | Community
---