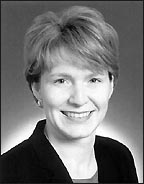 Sen. Michelle Fischbach (R-Paynesville) and Rep. Doug Stang (R-Cold Spring) have both announced that they will run for re-election in the general election in November.

Fischbach, who was first elected to represent District 14 in a special election in 1996, will seek her third full term in the Minnesota Senate.

Stang will seek his fourth term in the Minnesota House.

Both Stang and Fischbach were first elected in 1996.

State Senators normally are elected to four-year terms, but all Senators must run again in 2002 in their new legislative districts. "I'm excited about the new opportunity it offers to get to know the new people of our district and see the people from the communities again that I have been working for," she said.

District 14 includes the eastern half of Stearns County and part of Benton County. In the Paynesville area, it includes the city of Paynesville, Paynesville Township, Zion Township, Munson Township, the city of Roscoe, St. Martin Township, and the city of St. Martin.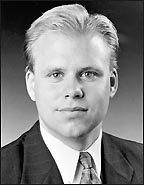 District 14B now is just the eastern part of Stearns County, including Cold Spring, Richmond, and Paynesville. It also includes Zion Township, Paynesville Township, Munson Township, the city of Roscoe, St. Martin Township, and the city of St. Martin.
"As a lifelong resident of this district, I know the area and the people very well," said Stang. "It has been an honor to work for the needs and priorities of the people of central Minnesota since I was first elected in 1996. I am excited to continue my service to them as their representative at the state capitol."
Fischbach, an assistant minority leader in the Senate, has worked to keep taxes from rising and to pass laws that will reduce the tax burden.
She serves on the following committees: Agriculture, General Legislation, and Veteran's Affairs; Income & Sales Tax Budget Division; Health & Family Security; Judiciary; and Taxes.
She also is a supporter of pro-life legislation at the capitol, including authoring the "Women's Right to Know" legislation that would require certain information to be told to women prior to an abortion.
"The sign of a good legislator is one who will speak for the people they represent," she said. "I know the people of the area well. I believe they can count on me to represent their concerns. I am looking forward to continuing that partnership with all the hard-working people of Senate District 14B."
Stang has also worked to provide tax relief and takes pride in the expansion of Highway 23 in the region. He believes in fighting for equity in school funding between metro and rural schools.
He serves as committee vice chair for Commerce, Jobs, & Economic Development; and on Higher Education Finance; Regulated Industries; and Ways and Means.
"Although we have seen much success for District 14B in recent years, there is much more to be done," he explained. "With the growth in population and business in our area, we need experienced leadership to make sure the voices of citizens in central Minnesota are heard."
---
Contact the author at paypress@lkdllink.net • Return to News Menu
Home | Marketplace | Community
---