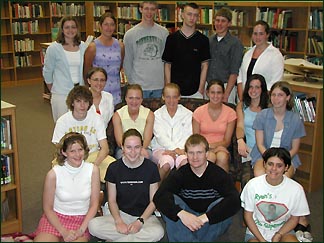 Seventeen juniors and seniors at Paynesville Area High School were inducted into the local chapter of the National Honor Society on Monday, April 15.

Induction indicates achievements in academics, leadership, service, and character.

"These are the ideals that the National Honor Society fosters, and these are the ideals we want in our student body," said high school principal John Janotta, before the induction.

"These are not only, in my estimation, the best students in school," added Janotta in closing the ceremony, "but the busiest, too. I'm impressed that you could make it. Congratulations."

Inductees on Monday, April 15, were: (front, l to r) Stephanie Thomsen, Jennifer Gully, Jason Leyendecker, and Jacqie Utsch; (middle) Ryan Whitcomb, Krista Kotschevar, Nicole Flint, Jessica Andrie, Ashley Wall, Laura Stoneburner, and Mandy Mayer; (back) Mindy Meagher, Ann Stalboerger, Andy Jones, Justin Reeck, Craig Thomes, and Katie Bengtson.

To be eligible for the National Honor Society, students must have a grade point average of 3.0 or higher. That's the academic part. They also must have demonstrated leadership, service, and character. A panel of five teachers reviews the applicants each year and selects the inductees.

Seniors inducted last week were: Jennifer Gully, Andrew Jones, Krista Kotschevar, Jason Leyendecker, Craig Thomes, Stephanie Thomsen, Jacqueline Utsch, Ashley Wall, and Ryan Whitcomb.

Juniors inducted were: Jessica Andrie, Katie Bengtson, Nicole Flint, Amanda Mayer, Mindy Meagher, Justin Reeck, Ann Stalboerger, and Laura Stoneburner.

In addition, 14 current PAHS seniors were inducted into the National Honor Society as juniors in 2001: Melissa Bachman, Laurie Barten, Wendy Bennett, Scott Buermann, Jennifer Habben, Lisa Hemingson, Jennifer Hess, Maria Janotta, Rachel Koehn, Sara Lieser, Amy Mueller, Heather Roos, Jonathan Schefers, and Scott Thompson.

Remarks at the ceremony last week were given by Dick Butler, who served the school district as an English teacher for 41 years before retiring last year. He talked about the importance of education in his life, his love of literature and poetry, and his continuing quest to learn.

He talked about having the humility to keep learning and that doubts aren't necessarily bad if they cause you to dig deeper or study harder.

"Learn something everyday," he told the students and their parents.

"You can't go out of school these days without a broad base, a broad background," he added. "So in 15 years, when the world is turned upside down, you have a wide background to draw on."

Paynesville has lots of things to do, he continued, such as keeping a journal, writing letters, visiting grandparents, attending plays, volunteering, and reading books. "The cure for boredom," he said, "is curiosity."
---
Contact the author at paypress@lkdllink.net • Return to News Menu
Home | Marketplace | Community
---