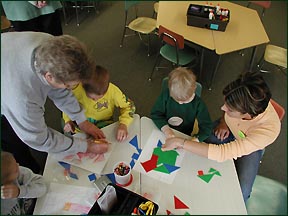 For the volunteers in the kindergarten classrooms at Paynesville Area Elementary School, the reward of volunteering - getting to help kids - is obvious everyday, not just during National Volunteer Week, which is being celebrated nationwide this week.

"It's fun," said senior Angie Meyer, who volunteers every afternoon during her study hall. "I enjoy it."

Parents wanting to volunteer at the elementary school can sign up during the school's open house in August. All kinds of tasks are available for volunteers, including a number of ones that can be done from home.

Foster grandma Evelyn Bruntlett (left) and high school senior Jacqie Utsch (right) help kindergarten students with an art exercise. Bruntlett is one of three foster grandparents in the school and Utsch helps during her study hall.

Each class uses parent volunteers to a greater or lesser degree in the actual classroom. The kindergarten classrooms - which have used 20 parent volunteers, six high school students, and two foster grandparents this year - use volunteers in the classroom as much or more than any other grade at PAES.

"Everyone should have (parent volunteers) in their room," said Dina Hengel. "They're a huge asset."

It's work, she explained, to get things organized to use parent volunteers. "But in the long run, kids benefit," she said.

Here's how. The average class size in the five sections of kindergarten this year is 17 students. That means if only the teacher and the paid full-time aide were present, the class could only break into two groups, each with eight or nine students.

With a foster grandparent, parent volunteer, or high school student, the class can break into three, four, maybe five groups, each with three or four students, yielding more one-on-one interaction.

"The more you can work in small groups, the better, especially at this age," said kindergarten teacher Colleen Pelton.

Small groups in kindergarten are used for reading, math, art, and music lessons. "It helps so we can keep the kids working in small groups, so we can give them more individual help," said Lou Louis, another kindergarten teacher.

Having larger groups means taking a longer time, which can prove difficult in keeping the students' attention. "For kindergarten, their attention span is about 15 to 20 minutes," explained Louis. "If you have a large group, you lose their attention because it takes longer."

Evelyn Bruntlett is a foster grandparent who works in a kindergarten classroom, through Catholic Charities, at least three mornings a week, splitting her time between Pelton's and Hengel's rooms. She has enjoyed working with kids as a foster grandparent for five years.

Pat Jones, another foster grandmother, spends around 12 hours per week in Louis' room. (Another foster grandparent at the elementary school, Rosella Anderson, works in the upper grades.)

For parent volunteers, working in their children's classroom lets them help while learning about their child's education.

"Kids think it's cool that mom's at school," said Lisa Hemmesch, who volunteers in Pelton's room one afternoon a week, to the delight of her daughter, Brooke. "I like knowing what's going on at school. I like knowing their teacher."

When you're involved at school, you can see times have changed, added Hemmesch, who is trained as a teacher herself and serves as a substitute teacher. "The more volunteers she has in here, the less eyes, ears, and hands she needs for disciplining.

"I think it's neat," said Pelton of having parent volunteers. "They know what's going on in their child's classroom. It shows their child how much they care."

Louis had four high school students volunteer in her classroom during the first semester and another who comes in the morning and afternoon this spring. "These high school kids have been just wonderful," she said. "The kids just love them."

High schoolers, who come during a study hall, can help while learning about working with kids.

Volunteering in a classroom during her study hall has helped Meyer decide that she wants a career in education. Before this year, she was uncertain. Now she's sure she wants to get her associate degree as a teacher aide.

Senior Jacqie Utsch, who volunteered as a middle school tutor the first half of the year and now volunteers in kindergarten, plans on a teaching career, though she isn't sure what grade level. Her volunteer work helped her decide that teaching was a career she wants to pursue. "I love kids," she said.

"We could not do what we do without volunteers," said Pelton. "There's no doubt about it."
---
Contact the author at paypress@lkdllink.net • Return to News Menu
Home | Marketplace | Community
---